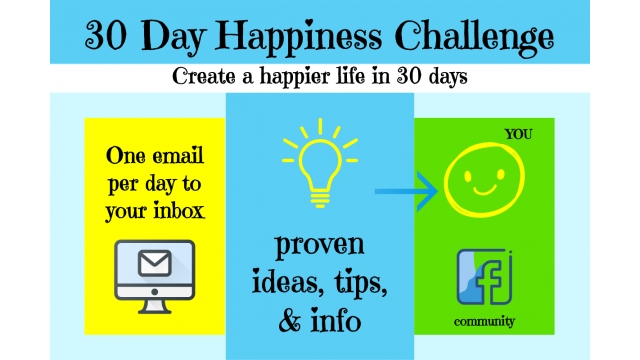 A Cupful of Happy announces that its 30-day happiness challenge has been updated to include new activities that can be done even during the pandemic. The month-long challenge asks participants to proactively invest in their happiness.
More details can be found at https://acupfulofhappy.com/30-days-happiness-challenge/
The updated challenge includes simple activities that they need to do each day. The goal of the project is to remind people that happiness can be achieved regardless of age, gender, or race or external circumstance.
The leader of the project, Cate, says that people often forget that happiness can be felt from little things. It is important that people learn how to disengage from the busyness of everyday life and take some time to be grateful for simple gifts.
There is medical data to support this. Mental health experts have noted that more cases of depression and anxiety are being reported. Particularly, they acknowledge a phenomenon called "pandemic fatigue" which is characterized by anxiousness caused by not knowing what will happen in the future.
While there is no medical cure for this condition, mental health practitioners recommend meditation and gratitude journaling. It is the latter that inspired A Cupful of Happy to start a 30-day happiness challenge. Further details can be seen at:
https://acupfulofhappy.com/30-days-happiness-challenge/
Cate says that if everyone made the conscious attempt to be happy every day, there will be a ripple effect. She likens happiness to a muscle – it only gets stronger the more it is used. The happiness challenge is her way to exercise this muscle and build emotional resilience.
Once people sign up for the 30-day challenge, they can immediately download a free journal where they can write down their thoughts as they go through this journey. To further simplify the process, the journal is split into three, from days 1 to 15, days 16 to 28, and days 29 to 30.
Cate writes, "Happiness is the name of the game here as A Cupful of Happy. When you get right down to it, happiness truly is a choice. True happiness can exist despite world events."
Interested parties can find more information at https://acupfulofhappy.com/30-days-happiness-challenge/
A Cupful of Happy
A Cupful of Happy
https://acupfulofhappy.com
cate@acupfulofhappy.com
821 Dawsonville Hwy, Suite 250-1167
Suite 250-1167
Gainesville
United States
COMTEX_389590717/2764/2021-07-09T23:47:22