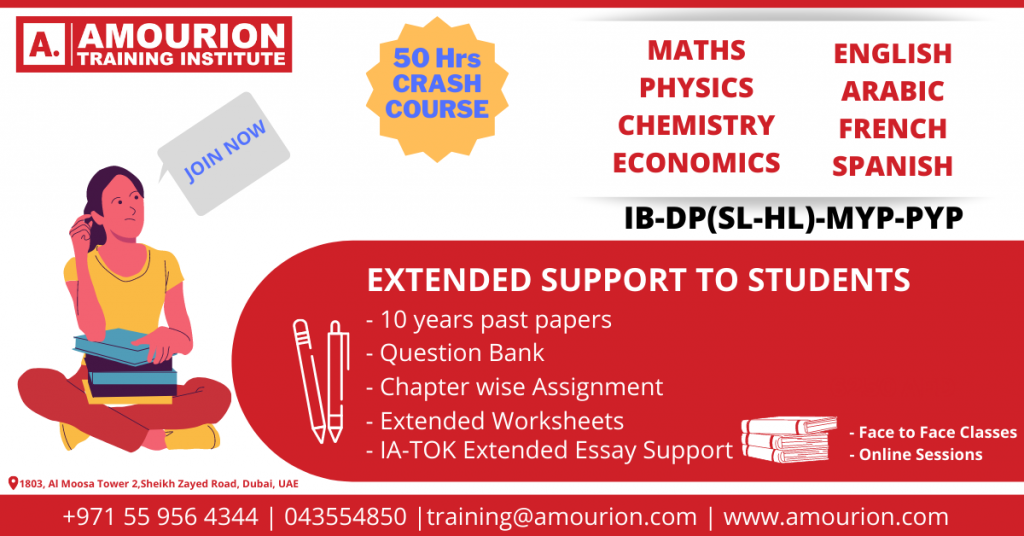 Dubai, UAE, 15th February 2021, ZEXPRWIRE – Dubai students have been grappling with curriculum ever since COVID – 19 shut schools in March last year. Students and parents of IB curriculum schools have been looking for support both from tutors at school and outside to help them overcome the obstacle of passing their IB academic year. The first quarter of 2021 has already seen a surge in the demand for best IB tutors in Dubai to help pupils out with IB Physics, IB Math, IB Chemistry, IB Economics, IB Geography, and so on.
Most of the students' search stops at the doorstep of Amourion Training Institute, which is located along the Sheikh Zayed Road near Emirates Tower metro station. Amourion Training Institute (ATI) in Dubai is a premium institution for the students following IBO curriculum. Amourion is being run under the able guidance and leadership of Dr. Anil Khare, a PhD in Math and an IB Expert. He has been dealing with varied curriculum boards and is the best tutor in Dubai for any syllabus related tutoring and mentoring. 
IB training at Amourion is done in a diversified manner. Amourion gets students in their later years of MYP and assists them throughout their academic year. Amourion helps students choose their IB Diploma subjects after there has been a thorough career counselling of the students and parents. Amourion has different approaches to help the student excel in their academic year, such as (Amourion Training Institute, 2021)–
In-Class Tutoring
Online Tutoring
Study Material Provided
Practicing Past Papers 
Concept-Wise Assignments  
The student is assured to get the best IB tuitions for all subjects at Amourion. Dr. Anil Khare gives personal attention to each student and due to his experience of teaching different kinds of students, he now customizes his teaching according to the requirement of the student. With huge classrooms and modern technology, Dr. Anil's classes are comfortable and engaging respectively. 
As far as the course pricing is concerned, the team at Amourion Training Institute is present to discuss and offer the best rates. The parents can avail different packages that are available to decide on the best that if friendly on their pocket. The packages start from a minimum of ten classes and last up to the final exam of the term. The Amourion team explains all the benefits of all packages so that parents and students make a wise decision.
Apart from IB tutoring of subjects, Amourion also has writers who are ready to help students with their IA, EE, ToK, and CAS applications (Tutors.ae,2021). Any writing support or guidance an IB student will require, Amourion can provide. 
References:
Amourion Training Institute, 2021 Click Here
Tutors.ae,2021 Click Here
Contact Information:
Amourion Training Institute is headquartered in Sheikh Zayed Road, Dubai, UAE
Website: Click Here
Name: Dr. Anil Khare
Email: training@amourion.com
Phone No: +971 4 355 4850 | +971 55 166 5437
Address: 1803, Al Moosa Tower 2, Sheikh Zayed Road, Dubai, UAE
The post Advancing Education Through IB Training in Dubai appeared first on Zex PR Wire.