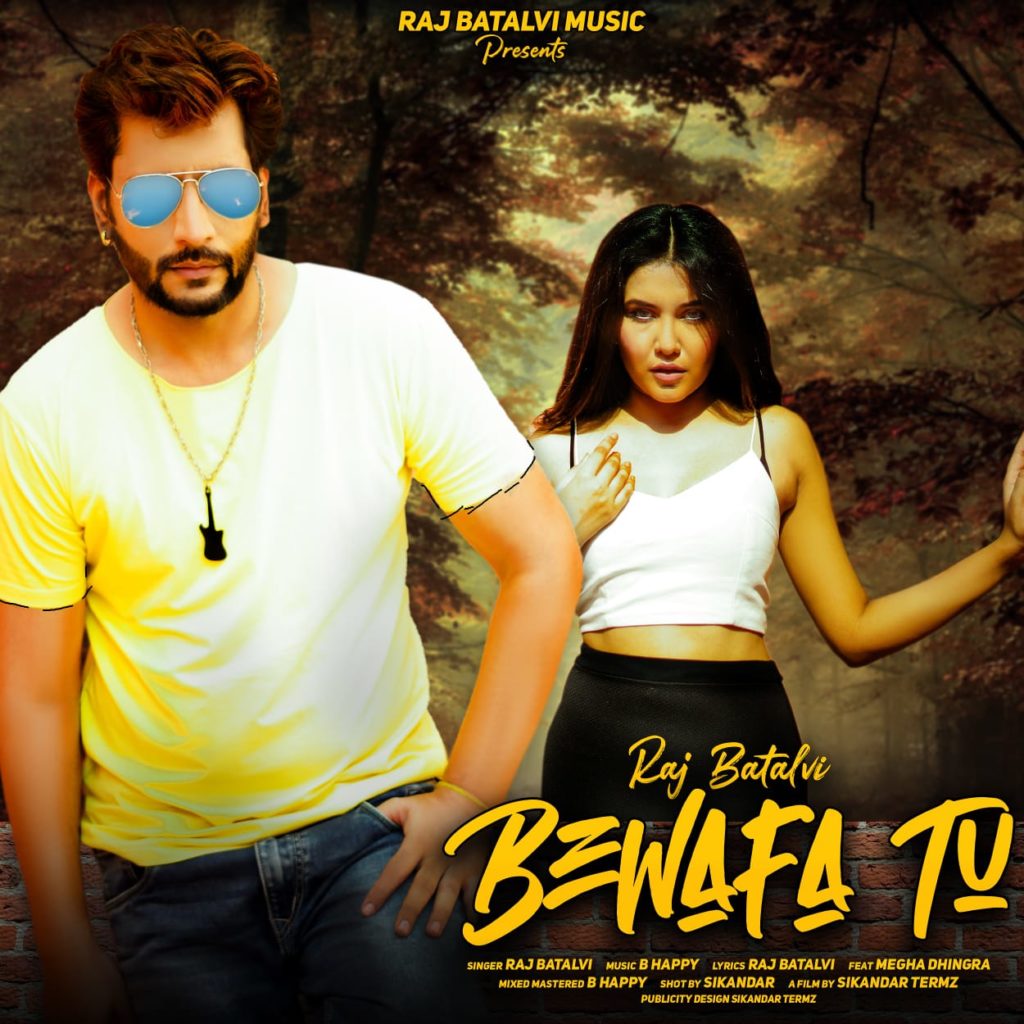 India (PR Wale Baba) –The new music video by Raj Batalvi and Megha Dhingra titled Bewafa Tu was released on 9 May.
Bewafa Tu, the new music video by Raj Batalvi and Megha Dhingra, has finally been released on YouTube. Raj Batalvi's latest music video 'Bewafa Tu' has been breaking the internet as the fans are loving the heartbreak anthem. This is the new version of a heartbreaking song. Sung by Raj Batalvi, the music of Bewafa Tu is composed by B Happy. Produced by BL Sharma and directed by Sikander Termz.
"Bewafa Tu" is like old wine and its musical and lyrical magic make it more beautiful. "Bewafa Tu" is not a typical romantic song. Raj Balatvi has tried to find out the feelings of love and heartbreak. Megha Dhingra has done a great job as a lead actress. "
"There are many faces of such passionate yet one-sided love; It may appear as joy, laughter, companionship but all such delusions lead to deception and betrayal and rejection sometimes lead to death. The greatest threat to your holiness without love is the rejection that you feel when you experience betrayal from your most trusted person."
Megha Dhingra said, "The song takes the listener through a journey of many different emotions that pass while they are in love and I'm so happy to be a part of it."
RAJ BATALVI OUT NOW
In the music video, Raj Batalvi and Megha are seen in different frames as conditions of breakups. Megha looks gorgeous in her outfit. The video ends with a heartbreaking Shayari by Raj. The song basically depends on the conditions following a breakup. The lyrics of Bewafa Tu are also very pleasing to give the music video a magical touch.
ABOUT RAJ BATALVI
Rajesh Sharma, better known by his stage name Raj Balatvi is an Indian Singer-Songwriter and Model. He was born on 20 Sep 1982 in Batala dist Gurdaspur (Punjab). He has done 15 songs and his popular songs are still loving, Dilmorde, Lalari, Tera Naal, Temporary, Sajna, Sukoon, Suit, and Husan, etc.
IN THE INTERVIEW
Raj Batalvi said "I think we have made a really good song, so I am glad that the audience has given a good response to the song within a few hours of its release. We did not expect that the song would get so many views within a few hours "
Watch the song here: