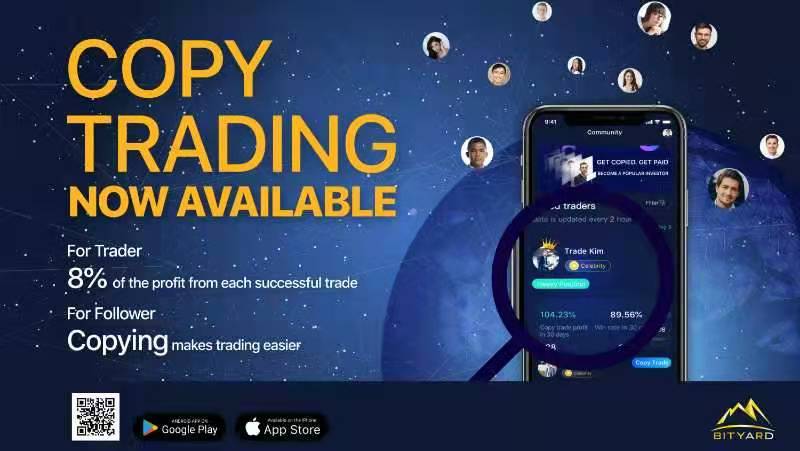 Abstract: Bityard adheres to the product concept of "complex contract, simple trade", and has launched crypto copy trading service. The goal of the service is to establish a global "highly professional, and low-threshold" digital asset investment platform, and to promote the socialization of the global cryptocurrency investment environment.
Paypal, one of the international well-known online payment companies, planned to launch cryptocurrency payment services in the near future. As a result, the price of Bitcoin, the mainstream cryptocurrency, has soared. At the same time, the continuous increase in the amount of Bitcoin that Grayscale Investment, a large crypto asset management company, has held, and the fierce presidential-election campaign in the USA have pushed the price of Bitcoin above $15,000. The continuous rise of cryptocurrency prices has attracted a large number of investors worldwide.
Bityard has launched crypto spot trading service
In its initial stage, Bityard focused on crypto contract trading service. With DeFi (decentralized finance) becoming increasingly popular, plenty of currency appearing, the need for crypto spot trading service from the market has become bigger. Hence, with Binance, the world's largest exchange, as the liquidity provider, Bityard has launched crypto spot trading service with more than 30 mainstream currencies including Bitcoin and Uniswap, to create a more comprehensive digital asset trading service for global users.
Copy trading helps make the Bityard exchange more social
Bityard adheres to the consistent idea and is committed to bringing the ultimate simplicity to all the users. The copy trading system is to achieve the thorough implementation of the platform concept of "complex contract, simple trade".  Through the new copy trading service, Bityard provides a simple, safe, and transparent platform to bring a more convenient trading system to users who have no crypto related background. With Bityard's copy trading function, users can easily copy other advanced investors, and those advanced investors will receive additional revenue from each successful trade copied.
Bityard copy trading system creates a unique interactive and mutually beneficial relationship between the copier and the traders who are copied. In the future, Bityard will introduce more social network related functions to further improve the practice of the exchange's social strategy.
About Bityard
Bityard is the world's leading crypto exchange, providing customers from more than 150 countries with safe, simple and fast digital currency trading services. At the same time, Bityard also attaches importance to financial compliance, and has obtained financial licenses issued by four national institutions which are the Business Administration of Singapore (ACRA), the United States Financial Supervisory Authority (MSB), the Australian Transaction Reporting and Analysis Center (AUSTRAC) and the Estonian Financial Regulatory Authority (MTR). Bityard believes that focusing on security and compliance will bring a positive influence to the global digital currency investment environment.