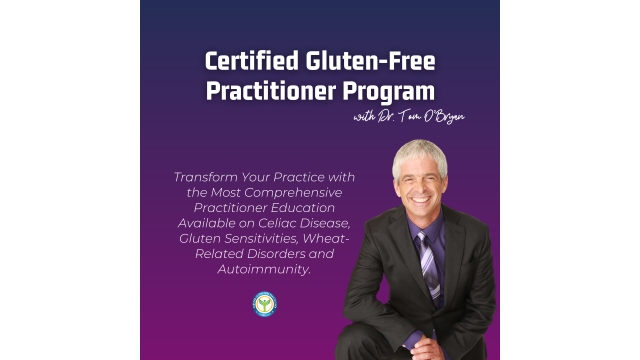 Dr. Tom O'Bryan has launched the Certified Gluten-Free Practitioner Program, a comprehensive education program covering celiac disease, gluten sensitivities, wheat-related disorders, and autoimmunity.
More information can be found at https://glutenfreepractitioner.com
The Certified Gluten-Free Practitioner (CGP) Program provides the education necessary for health practitioners to recognize and diagnose how food sensitivities and the body's autoimmune defenses may be underlying causes of conditions affecting patients.
Dr. Tom O'Bryan, an internationally recognized speaker, best-selling author, and autoimmune expert, has been called the "modern day Sherlock Holmes for chronic diseases." He has shared his innovative work in his books "The Autoimmune Fix" and "You Can Fix Your Brain" and in his groundbreaking documentary series "Betrayal: The Autoimmune Disease Solution They're Not Telling You."
Dr. O'Bryan's discovery of wheat-related problems began years ago with health problems in his family. Once he understood what caused these health issues, Dr. O'Bryan made it his mission to understand wheat-related problems and share his discoveries with other health practitioners.
Instruction in the CGP program covers the science, research, and tools available to health practitioners so they can learn how to search for and treat underlying causes that have been making patients sick. Early identification is critical so that patients can be cured before damage produces debilitating ongoing problems.
Wheat-related disorders like celiac disease and gluten intolerance often go undiagnosed for years while a patient is suffering. The symptoms of this kind of disorder can vary greatly. Some symptoms center on digestive issues, but other symptoms are unrelated to digestion, making it difficult to diagnose and stressing the need for the Certified Gluten-Free Practitioner Program.
Health practitioners who become certified in the CGP Program can transform their practice with the knowledge and expertise that they gain. The CGP Program consists of nine modules that focus on understanding autoimmunity and how to predict autoimmune diseases, learning how to differentiate between various wheat-related disorders, learning how to diagnose and correct inflammation and intestinal problems, building a better health practice, and more.
One satisfied health practitioner said, "I could not have helped her the way I did without the knowledge that Dr. Tom gave me through the CGP course."
Interested parties can get more information at https://glutenfreepractitioner.com
theDr.com
theDr.com
https://thedr.com/
info@thedr.com
+1-877-458-8361
San Diego
United States
COMTEX_388106052/2764/2021-06-10T14:05:07