New Jersey, December 10, 2020, ZEXPRWIRE, Mental Illness can turn someone's world into moments of hell and un-certainty. But for the man known as The Depressed Poet, life has taken a turn for the better while he creates a world of Common Sense and Simplicity that not only helps him but helps other as well. Meet, Doc Dalton.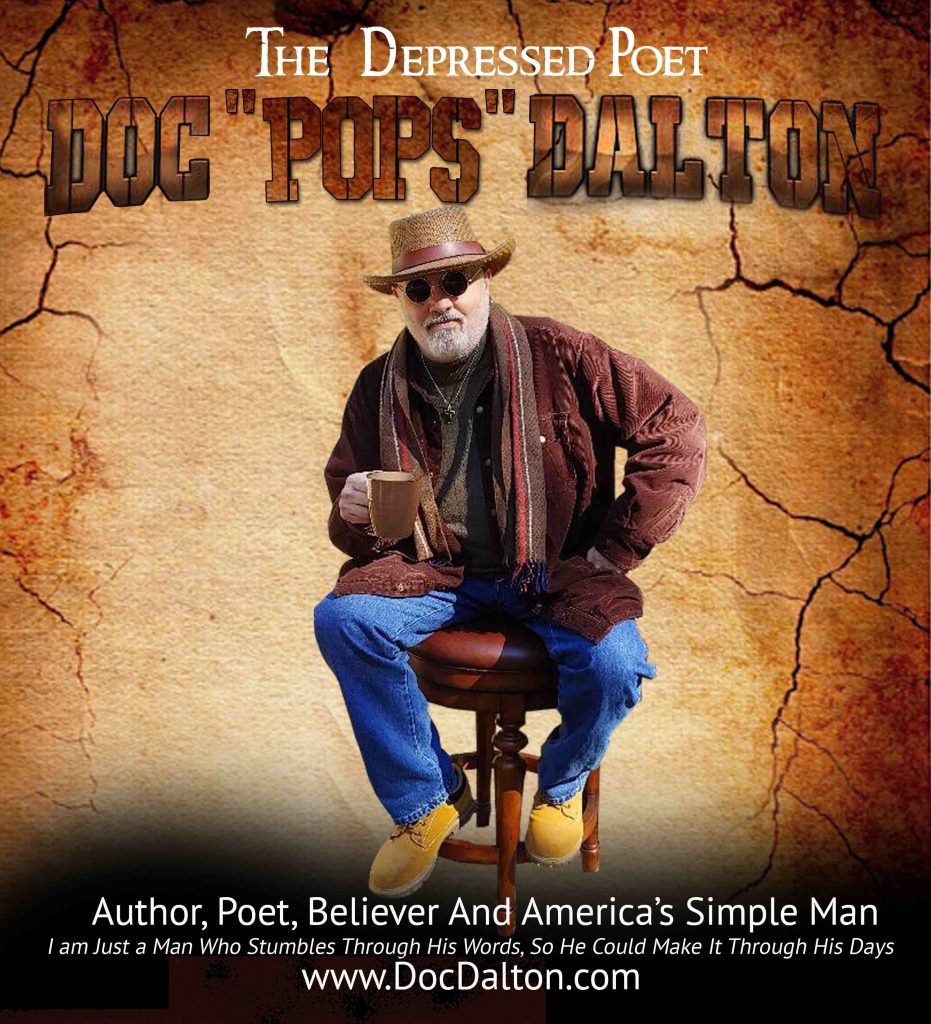 Mental illness can make someone's life downright scary. It can take you to places that you never imagined you could go to. It controls your thoughts and actions and at times leaves you with the feeling of being helpless. As Doc would say, I walked the floors of hell more nights than I would like to remember.
But through it all, there is always a glimmer of hope and that hope for Doc Dalton started when he was hospitalized on several occasions for his depression.
It started for me when a doctor suggested that I try my hand at poetry claims Dalton. I was locked up, could not leave, thought the doctor was crazier than I, but I said why not. With that decision he was handed a pad and pencil and placed in a room by himself. What took place in that room was un-real states Doc. I started writing about things I never thought about before. Thoughts of beautiful mountains, to different paths along countless journeys. To the beauty of the nighttime sky and Gods beautiful gifts that surround us every day.  It was as if my mind had the ability to stop the crazy thoughts and welcome calm into it. It gave my mind what I call a mental vacation. One that I welcomed.
Mental illness can be crippling for many. It stops you dead in your tracks from doing not only anything, but some of the simplest things that you want to do. For many, the only positive times arrive when you least expect it and that's when you try to accomplish something and enjoy the feeling quickly, because as fast as it came, is as fast as it could leave you.
For me, I realized a pattern which meant, if I was going to get anything in my life accomplished, I needed to pick things that I would enjoy doing when I was able to do them because many times I wasn't. This was not a 9 to 5 situation for me, it was a moment to moment situation. So, I developed, my own personal life structure that allowed me to not only gain some type of success, but some type of value within my own life, states Doc. With this decision I put together a plan for me which included, poetry, podcasting and 3 simple steps to success and here is how they all operate in my world of struggle and un-certainty.
Poetry – I can do this anytime when I am OK. I have been published; different groups have used my poetry as part of their group gatherings. Please understand, in no way do I consider myself a great or even good writer because the truth is, I am not. What I am is a man, who struggles through his words, so he can make it through his days.
Podcast – I host The Coffee and Prayer Series. Again, I do this when I was OK. To be safe, I have produced 8 shows in advance so I would never fall behind in case I got sick. 
3 Simple Steps to Success – One day while watching television, I listen to a gentleman talk about reaching out and finding your own path to success and create that path the best way you can so it will fit with in your life style. Never once did I look at mental illness as a life style, but it made sense to me so I did what he said and took everything into consideration within my own life and wrote down exactly the way I would want it to work in my life. I wanted simplicity because with mental illness, confusion can set in easily, so the simpler the better. I needed it to work in as few steps as possible. I need it to be easy to understand and inexpensive.  And last, if I was not feeling well, I needed to know that it was OK, not to participate until I felt better.
Once done, I searched for a company where my wishes would fit into their structure and I found it. It has been a blessing and it has given me the opportunity to enjoy success and to feel as if I have value in my life. It also gives me the chance to share this with those who need it as well. This is a place where common sense and simplicity equal success and peace.
Doc claims this can work for almost anyone who can be honest about their own personal situation. At that point, create your own course or structure so it can fit into your own life. I am not saying it is easy, but I am saying it can be done.
Learn more about Doc Dalton at, DocDalton.com   Email: docdalton@outlook.com
The post From Mental Illness to Simplicity, Meet Doc Dalton appeared first on Zex PR Wire.