Print production workflow. It begins when a customer makes that initial inquiry and ends with a paid invoice from that customer– yet between those two points it's not a straight line. It's more like a complex journey with a lot of back and forth looping interaction between all main departments—and not just the flow on your shop floor. Print production workflow includes the accounting, purchasing, and sales & customer service departments, also referred to as the 'carpeted' areas of the business. Both front end and back end need to be connected in order to optimize your complete operation.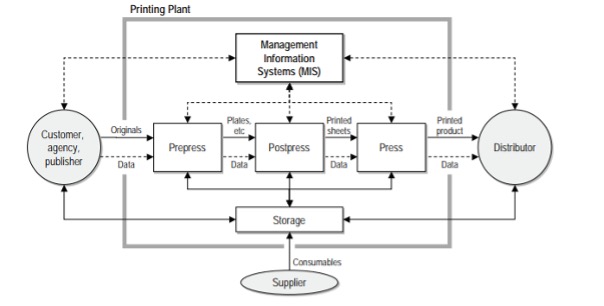 Source: Integrating Systems in the Print Production Workflow, Linköping University, Claes Buckwalter
The journey traveled from order entry to invoice should be a fast path with the least amount of expensive labor. How does a print or packaging company achieve this? Through an MIS system which leverages print production workflow with automation.
Automating your print production workflow offers many benefits including improving your company's profitability, optimizing task execution in your workflow, and improving production throughput. HiFlow helps printers optimize print production workflow so that companies can confidently move forward to pursue more and larger customers AND provide those customers with superior service.
Optimize your ENTIRE workflow
Some shop owners feel that if they optimize one specific workflow, for example pre-press, then the rest of the print production workflow will optimize as well. However, often this in itself will cause bottlenecks further down the workflow. HiFlow takes a wholistic approach with its central database which offers connectivity and optimization for the entire front and back end of your organization.
Improve customer experience (CX)
The current reality in the printing industry is defined by customer demands: more complex orders, more variable data, lower order value, super-fast turnaround times, order entry by customers, and less margin to play with to get the job in and out the door.  Can you improve CX as well as improve your bottom line? Yes. With a management information system like HiFlow. HiFlow MIS for Print creates a more touch-free workflow environment, which creates a faster print production workflow. A centralized database ensures data integrity and fewer errors. Easy dashboards allow CSRs to have access to job information that they can communicate easily to customers. Fast, smart and customer centric: An MIS is a win-win for print service providers.
With HiFlow Solutions
Automate print workflows to speed up ordering, scheduling and production
Eliminate bottlenecks in print production workflow
Fly through estimating jobs while reducing errors and improving consistency
Lower costs by automating print production workflows
Improve CX, staff productivity and revenue
End-to-end print production workflow solutions with HiFlow
Software is your main tool to drive automation in print production workflow. With its robust MIS, HiFlow's management information system has comprehensive tools that automate workflow–in both front end and back end operations–so companies can compete more effectively in the marketplace, maintain faster and leaner production times, and increase margins of profit.
In the past, print providers had viewed print production workflow as limited to shop floor processes. Today's technology in an MIS system allows printers to connect all of the steps–representing people, processes, and equipment in an end-to-end-print production process. HiFlow Solutions manages all of it, with innovation and dedication to being a partner in a printing company's tech journey.