San Diego, CA – Mission Pest Control serves Southern California, helping clients tackle pest infestations in both commercial and residential properties. Despite the company having been in business for 12 years, it still continuously trains its team in safety, customer service, and the newest pest control techniques for better service delivery.
The company is now expanding further into the San Diego area. Regardless of the increased service area from the expansion, Mission Pest Control still offers more personalized, state-of-the-art services to all its clients. The offerings are customized to get each client a lasting solution. As a result, the company aims to assist clients in keeping their homes and commercial properties completely free from pests long after their technicians leave.
To give its clients better pest control services, Mission Pest Control classifies its services depending on the pest types. For instance, the company has modern technology to eliminate ants, roaches, and spiders. These three creatures are skilled at hiding and hard to control. Fortunately, through its experienced professionals, the company has modern ways to eliminate the creatures, making the residential or commercial property safe.
Mission Pest Control also helps clients eradicate rodents, wasps, and fleas. The company offers customized remedies for each case, based on the pest situation and the possible recurrence of pest infestation.
If a client is uncertain about which pest is causing havoc in their commercial or residential property, the company's technicians offer thorough inspection. Thanks to the company's trained professionals, they identify the specific pest type and, more importantly, the extent of the infestation. After a professional analysis, it becomes easier to kick off the pest elimination process.
The company also offers timely appointments for clients in San Diego where they can choose an ideal time for pest elimination and inspection. However, if a previously scheduled appointment is rendered impossible due to other reasons, Mission Pest Control allows clients to reschedule services through its website.
The company also offers emergency services. If a client notices a certain pest infestation they need dealt with urgently, they can contact the company for an emergency consultation. Besides being timely, the emergency services are ideal for commercial and residential property owners that have never had a pest infestation situation before. Luckily, the company's experience in pest control helps in quick analysis on the impact of pests on a property and the most effective ways to contain the damage.
Besides active pest eradication, Mission Pest Control also helps clients avoid future infestations. The exterminators address a lot of the factors that make a building vulnerable to pests. The measures may vary depending on the property and the recurrent pest infestation.
To talk to a professional, clients can call Mission Pest Control at (858) 345-9990. Their office is located at 9863 Pacific Heights Blvd, Suite B, San Diego, CA 92121. Visit their website at missionpestcontrol.com for more information.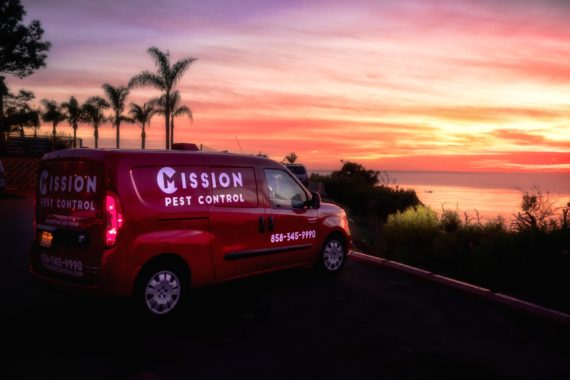 Media Contact

Company Name
Mission Pest Control
Contact Name
Caleb Raymond
Phone
(858) 345-9990
Address
9863 Pacific Heights Blvd Suite B
City
San Diego
State
CA
Country
United States
Website
https://missionpestcontrol.com/
COMTEX_389466184/2737/2021-07-07T09:00:44