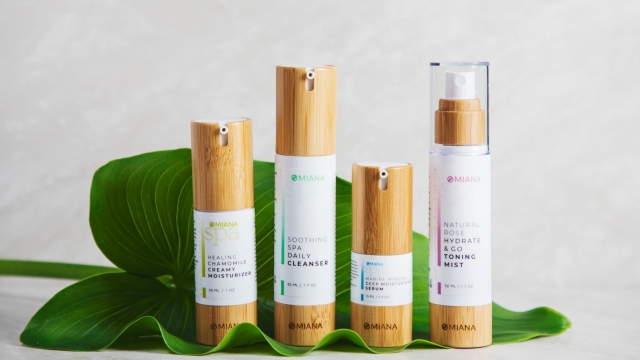 Customers looking for natural and organic, clean skincare products formulated for sensitive skin can now purchase Omiana Spa Skincare, results-driven skincare without harsh chemicals. Created for professional spas and used in over 28,000 facials, Omiana Spa skincare, based in Laguna Beach, California, is now available online. Omiana's naturally gentle skincare is engineered with nurturing ingredients captured at their peak for maximum potency to deliver botanical beauty with no toxins, fillers, artificial fragrances, synthetics, and never tested on animals.
Today Miche Klammer, Managing Director at Omiana, releases details of its naturally crafted botanical skincare line formulated for women, men & teenagers now available at Omiana's online store.
Healthy skin is beautiful skin – Omiana has taken the guesswork out of skincare and delivers formulas with ingredients hand-selected for their unique skin benefits to create holistic anti-aging solutions that are incredibly gentle, even for sensitive skin. Omiana's innovative and complex skincare formulas are made from consciously sourced ingredients and prepared in small batches. This approach is excellent news for the consumer as Omiana's collection is crafted with non-toxic ingredients carefully curated to feed the skin and deliver results. Omiana believes you'll never want to experience the ritual of beauty in any other way and backs it up with a no-risk 30-day return policy.
Skincare Free from Synthetic Fragrances and Harsh Chemicals – Omiana's luxurious ingredients naturally scent the products and are 100% free from artificial fragrances, synthetic scents, or "perfumes." Omiana omits GMOs, fillers, artificial colors, harsh chemicals, or other toxins because these ingredients can be irritants for sensitive skin. Omiana uses high-quality fruit extracts and essential oils with the ingredients explicitly stated. Ingredient transparency allows Omiana customers to select products that contain ingredients that meet the individual's skin sensitivities and skin allergy requirements.
Cruelty-Free Vegan Skincare: Omiana Spa skincare is free from animal-derived ingredients such as lanolin, dairy, eggs, beeswax, honey, silk, and more. Not only are some of these common allergens, but Omiana strongly believes in delivering certified cruelty-free and vegan skincare products. Omiana uses ingredients that are carefully researched and sustainably sourced. Customers will likely appreciate this company ethos because Omiana's natural skincare products are not just efficacious, luxurious, and cruelty-free, they are created using trusted ingredients and are 100% vegan.
Miche Klammer, when asked about skincare, said: "We believe in ingredients. That's why we're thrilled to offer the Omiana Spa skincare line through our online store. Omiana's natural and organic skincare is formulated using effective active ingredients to create products that support healthy, age-defying skin. Every ingredient is carefully curated to feed the skin and deliver results!"
This line of clean beauty essentials is Omiana's latest release. Miche Klammer is particularly excited about this new skincare line because Omiana formulations are made with professional spa-quality ingredients to deliver maximum results. As a result, Omiana products are crafted for those who expect the best and want beautiful results from their skincare.
Those interested in learning more about the business can do so on the business website at https://www.omiana.com
Those interested in purchasing can go directly to the product listing, here: https://www.omiana.com/pages/skincare-new
Omiana
Omiana
https://www.omiana.com
1968 South Coast Highway
187
Laguna Beach
United States
COMTEX_389612142/2764/2021-07-10T10:35:11