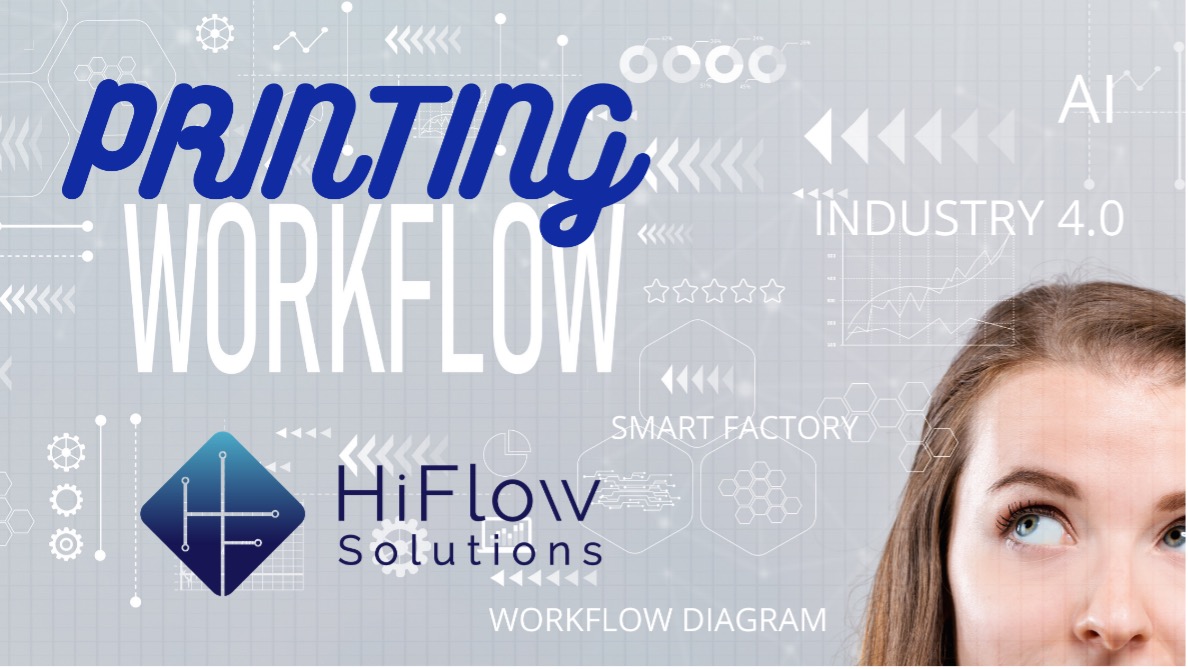 Commercial printing is a competitive industry with razor thin margins of profit. As the industry continues to evolve, print service providers must adapt their workflow processes to the times. Printing workflow technology inherent in advanced MIS systems can upgrade workflows with Industry 4.0 technology streamlining workflow and maximizing profits.
What technologies will best aid printing industry companies?
Commercial printers can expect to see more pressure to shorten cycle times; short runs/small batch runs will become more common; variable data; pricing pressures from customers and brands and continued diamond for quick time to market and fast turnaround.  Brand owners and printing companies alike are looking for ways to take time and touches out of workflow printing.
Keeping pace with technological innovations and changes will be a challenge during this decade.  Commercial printers are seeking to increase their efficiency and automation throughout their production process, and finding ways to connect prepress, printing and finishing could be an answer to potential bottlenecks in the manufacturing process. HiFlow Solutions can help.
Integrating technology can quickly achieve the results you want with HiFlow
The amount of time and money that can be saved with printing workflow software is staggering.
Since the pandemic, accelerated adoption of cutting-edge technology increasingly those in the printing industry are interested in increased automation and solutions that improve the quality of products while keeping costs in line.
An increased focus must be placed on operational efficiency and smart workflow automation, part of a more comprehensive solution that connects all parts of a packaging manufacturer.
Whether your company does digital, wide format, offset, flexography, screen printing, book printing, you need to find ways to boost operational efficiency and quickly respond to evolving customer demands as well as changing regulations and market trends.
For printing companies that can pivot and adapt technology that creates efficiency in their infrastructure, the sky is the limit.
From front office to factory floor – challenges for printers
Slow job onboarding and into production
Multiple solutions that are separate, to one unified one-screen workflow
No communication or collaboration between departments
Data has to be searched for–and searched and searched
Bottlenecks that result from scheduling, inventory and make ready issues
A workflow users INTERACT with: HiFlow's Workflow Diagram
Many workflow solutions present some kind of flow chart graphic. Only one allows for the user to click on the components of the workflow and be able to pull out information on the screen.
HiFlow's Workflow Diagram illustrates the entire job in its one screen. Materials, machines, people, documents, tools and any other part or process is represented.  Further, all the information is then reposited into the data base. Over time, the AI in the system, 'learns' the optimal workflows for your manufacturing environment.
The next step…
Printing workflow solutions from HiFlow Solutions MIS software offers an end-to-end management information system with comprehensive tools that automate print workflow and business processes so companies can compete more effectively in the marketplace, maintain faster and leaner production times, and increase margins of profit. Contact HiFlow Solutions and speak with one of our consultants to optimize your workflow today!
The world of print is changing – and it is happening rapidly. Jobs are getting more complex, more personal, with more unique components that stretch the limits of a printer's creativity and technology. Turnaround times are getting ever shorter, and printers are finding themselves being asked to expand their offerings, becoming "one-stop shops" for their customers. Printers are also being called on to serve as marketing partners, rather than just printing vendors, adding even more layers of complexity to the equation.
HiFlow's workflow printing solution is a fairly textbook offering for all of the stages that a project or job must go through until it is completed. Workflow printing with HiFlow isn't just limited to a few printing clips for a few hours during workday. It's worth mentioning that it is used to refer to the software that is used to automate all or some of those processes with HiFlow Solutions. HiFlow's workflow printing solutions are well geared towards digital printing and are often called the digital front-end for many businesses.
For many shops, figuring out how to manage all these moving parts is more than half of the challenge in today's business environment. And the cornerstone to success is both deceptively simple and headache-inducingly complicated at the same time: workflow printing.
Workflow is the core differentiator between competitive print providers; as digital production printers become more commonplace, the competitive differentiation that used to exist in terms of artisan skill in optimizing quality on offset presses fades away. HiFlow Solutions is here to fill that void of workflow printing, for maintaining a streamlined process for accommodating all requirements of printing at any given time.
HiFlow's workflow printing manages both print related digital assets and production of print-based material. Furthermore, the solutions are pretty much textbook, and:
Produce higher quality content more quickly
Adapt printed content easily for different markets
Quickly update printed media following product changes or to address new market trends
Enable production staff to collaborate easily with each other and with outside resources
Bring content updates automatically into print design files
Harmonize the brand both online and offline for a consistent customer experience
HiFlow's workflow printing simplifies the use of digital assets to create omnichannel marketing documents and other features as well. Combine DAM with PIM and CMS to automatically transform assets for delivery across channels or create a 'Single Source of Truth' of product-related information with HiFlow's workflow printing feature, that helps emerging businesses with the right amount of printing support for their daily needs.
If you have been anxious about printing your images or documents big, there's high chance that the workflow printing feature under HiFlow's abundant offerings will help you render your printing requirements to the fullest.