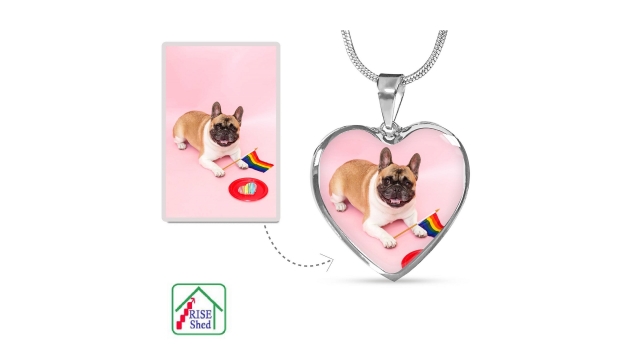 RiseShed.com have announced the launch of their updated range of pet memorial jewelry. The online store specializes in creating high quality customized jewelry that captures memories and celebrates special occasions.
For more information, please visit the website here: https://riseshed.com/collections/memorial-remembrance-photo-monument-jewelry
The updated range of pet memorial jewelry by RiseShed.com has been designed to create lasting tributes to pets that are no longer with their owners. The range includes charms, pendants, and bracelets.
The hand-crafted jewelry pieces can be fully customized with photographs and engraved with the customers' choice of words. Further options for customized include a choice of 316 steel or 18 karat yellow gold finish.
The online retailer explains that their jewelry turns memories into treasured keepsakes and that each piece is unique to its new owner. The memorial jewelry designs offered by RiseShed.com include exclusives which cannot be found in offline stores.
An example of their pet memorial range is the Create Your Own Bangle With Heart Pendant. The silver or gold toned bangle is adjustable with a wire wrap sliding design. Customers can upload their pet's picture, which is then custom printed onto a heart-shaped pendant.
Alongside the photo pendant, the bangle features two mini pendants that show that it has been made in the USA. Each photo charm is handmade to order and is sent out to the customer within three to five business days.
Another product in the range is the "Create Your Own Photo Necklace with Dog Tag". This dog tag shaped pendant is also custom printed with a photo of the customer's pet and can have their chosen words engraved on the back.
The finished dog tag pendant is then suspended from a chain in a matching gold or silver tone. All pieces are packaged in elegant gift boxes.
RiseShed.com has been creating unique jewelry pieces to preserves their customers' memories since 2018. Other ranges in their jewelry collection celebrate love, family, parents, and friendships.
A customer has said of their experience of RiseShed.com: "The website was easy to use and the engraving on the necklace I bought was so beautiful."
Those wishing to find out more can contact them at +1 (201) 429-6100, or visit the website here: https://riseshed.com
RiseShed.com
RiseShed.com
https://riseshed.com
+1-201-429-6100
PO box 939
Salisbury
Australia
COMTEX_389342973/2764/2021-07-04T23:46:25