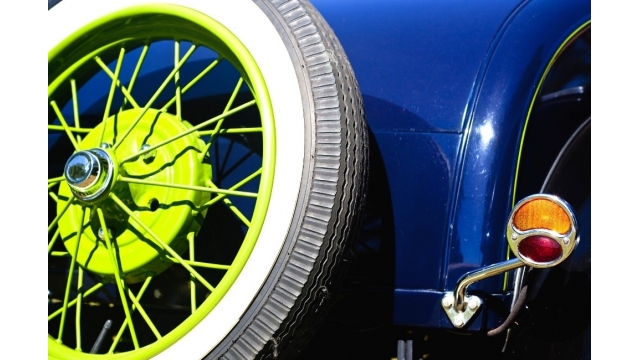 From old school to modern: all the best advances in tyre technology.
The invention of the wheel is lost in the mists of time, but tyres are a relatively new development. Chris Lett of Branigans Tyres, a family tyre business with branches in Burleigh Heads and Southport, says that tyre technology is still on the move and that even more important inventions and innovations can be expected. Meanwhile, let us look back on the big milestones in the development of the tyres as they are known today and follow what proves to be the interesting progression of tyres from old school to modern.
Nowadays, tyres do much more than just protecting wheels, but the very first "tyres" were made for no other reason. Wooden wheels could easily get damaged or split while navigating rough roads, so they were strengthened by a strip of leather (and later iron) that helped them to last a little longer.
This state of affairs continued for centuries until the self-taught chemist, Charles Goodyear, discovered and patented the vulcanisation process that makes rubber more durable. Contrary to urban legend, he didn't go on to invent the pneumatic tyre, but solid rubber tyres were already a notable improvement and Goodyear's invention made them possible.
The number of bicycles involved in the 19th century cycling craze is a matter for conjecture, but no matter how many of them there were, the fad led to several important inventions and innovations. Clothes that allowed women more freedom of movement were one, and the pneumatic tyre was the second.
A Scottish inventor had already patented a pneumatic tyre some decades previously, but it was impractical and the idea was abandoned and forgotten until John Dunlop, also a Scot, lit on the idea of pneumatic tyres as a means of making his son's tricycle ride better. Observing that his pneumatic tyres rolled much better than the regular wheels, he saw their potential for bicycle racing, and the rest is history.
Up to this point, car wheels were basically just like carriage wheels. It would take two inventions to revolutionise them. First, the invention of wheel rims over which pneumatic tyres could be fitted, and second, the development of a tyre that could fit snugly onto them.
The first breakthrough was once again bicycle-related. Cyclists loved pneumatic tyres, but mending punctures was hard work since the tyres were glued onto the rim. A bit of lateral thinking on the part of the Michelin brothers, Eduard and Andre, and a wheel rim that allowed tyres to be slipped on snugly without presenting too much difficulty to remove was the result. The year was 1891, the technology was now in place, and the world was ready for the pneumatic car tyres that have made the name "Michelin" famous to this day.
With pneumatic tyres now being used on automobiles, though with limited success, advances in tyre technology gained momentum. The first tubeless tyres were patented, mountable rims made it possible for drivers to change wheels, and in 1908, American inventor and cofounder of the Goodyear Company Frank Seiberling introduced the concept of tyres with tread to improve traction.
Meanwhile, Benjamin Goodrich, whose name lives on in the American tyre company BF Goodrich, discovered that adding carbon to rubber would make tyres last much longer, introducing his tougher tyres to the market in 1910. However, there were still durability issues, and yet another American inventor, Phillip Strauss, would be the man who finally solved the problem with his 1937 tyre design which consisted of a hardened rubber and fabric tyre with an inner tube.
But Michelin wouldn't remain in the background for long. In 1948, the company patented radial tyres which had fabric cords placed at 90 degrees to the direction of travel to strengthen them. The Makers of the Packard Marque decided to go a step further in 1954, fitting tubeless tyres to their car, and Pirelli introduced wider radial tyres in 1974.
Run flat tyres, first invented by Michelin in the 30s, but not widely used, underwent further development in the late 70s and early 80s with Bridgestone tyres introducing sidewall reinforcement in the early 80s. But, despite sounding advanced to those of us who still need air for their tyres, innovation didn't end there.
The quest for motor racing advantages has been a big driver in the development of better tyres, and the advent of the ultra-high performance (UHP) tyre for better handling, braking, and cornering at speed was the inevitable result.
But with environmental concerns on the rise, fuel efficiency, and the ways in which tyres could contribute to it provided a new focus. Next up may be a non-pneumatic tyre (NPT) which can't go flat and will be fully recyclable. If this sounds far-fetched, think again! Hankook has already made its latest development, which features a honeycomb-like internal structure to support it, public.
"Branigans is looking forward to the new concept in tyres," says Chris Lett. "The impact of tyres on the environment has always been of concern – and the added element of safety inherent in a tyre that can't blow out could turn out to be a lifesaver." Meanwhile, Branigans is keeping its clients safe on the road while caring for the environment by ensuring that tyres remain in service within the limits of safety and that end-of-life tyres are put to use in one way or another rather than being sent to landfills.
For further information, visit or call Chris and his team at Second Hand Tyres Gold Coast |Branigans Budget Tyres by contacting the Service Centres in Burleigh Heads (07) 5535 2660 or Southport (07) 5591 8633.
Syndicated by Baxton Media, The Market Influencers, Your Digital Marketing Agency.
Branigans Tyres Burleigh
Branigans Tyres Burleigh
http://branigansbudgettyres.com.au/locations/burleigh/
burleigh@brangians.com.au
+61-7-5535-2660
13 Flagstone Dr, Burleigh Heads QLD 4220, Australia
Burleigh Heads
Australia
COMTEX_389342966/2764/2021-07-04T23:46:24