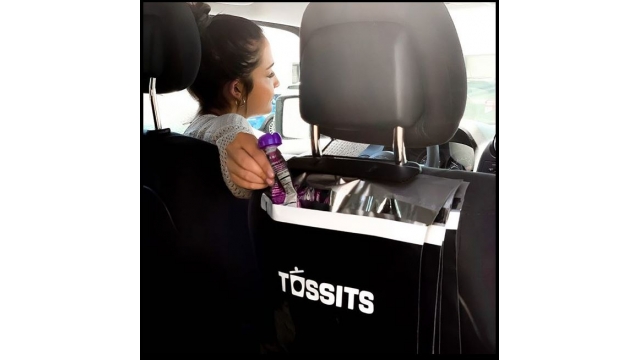 Tossits, a sustainability company based in Clarkston, Michigan, has launched a series of eco-friendly car garbage bags also called 'Tossits.' The products hang on the back of seat headrests and provide customers with a sustainable way to keep their cars clean.
For more information, please visit https://tossits.com/shop
According to Don't Trash Arizona, an anti-litter program implemented by the Arizona Department of Transportation, over 25,000 car accidents per year are linked to litter. With the latest announcement, Tossits helps keep families safe by reducing the garbage thrown from cars.
The company understands that parents and commuters drive daily and often don't have time for regular vehicle cleaning. To this end, Tossits provides a simple way to eliminate passenger seat food wrappers and backseat garbage piles. Their bags use an adhesive strip to contain leaks and smells, and the extra pockets are ideal for storing tissues or wipes.
Customers will receive the Daily Driver set of seven bags and can save further by ordering the bulk Carpooler and Bargain Hunter sets.
Tossits also recommends their products for traveling salespeople, truck drivers, carpoolers, and road trips. The 15″ x 12″ bags are large enough to store all types of garbage, from coffee cups to fast-food wrappers. For customers that need to dispose of liquids, Tossits are waterproof, too.
Tossits was formed by a team of parents, car enthusiasts, and commuters — people who understand the struggle of maintaining a clean vehicle amidst a busy schedule. The company takes pride in providing environmentally-conscious products; their bags help reduce litter and are made from post-industrial recycled materials. They also partner with environmental groups to spread their sustainability message.
With the latest launch, the company continues to provide consumers with an eco-friendly disposal option for car garbage.
"Our mission is to create a cleaner Earth with less trash on our streets and highways," said a spokesperson for the company. "We also teach children to throw away their trash in a bag and not on the floor or tucked away in the seat."
Interested parties can find more information at the link above or by visiting https://amzn.to/3g9Jz1j
Tossits
Tossits
https://tossits.com
info@tossits.com
+1-833-867-7487
3779 South Ortonville Road
Clarkston
United States
COMTEX_389342969/2764/2021-07-04T23:46:24