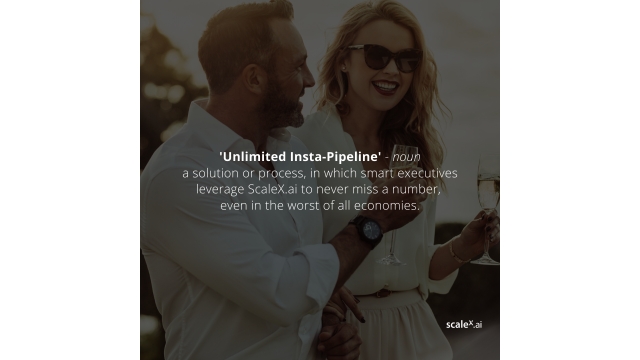 ScaleX.AI has announced an update to its services to include an automated warm introductions tool. The artificial intelligence software helps sales professionals build connections with key executives and investors for businesses.
For more information, visit: https://www.scalex.ai/demo
This latest update will help businesses make key connections without burdening sales representatives and allowing them to focus on high-level tasks within the sales cycle.
Chad Burmeister, formerly Senior Director for global sales development for a major player in UCaaS, developed ScaleX.AI after experiencing growing frustration with an inefficient sales process. By combining data analysis software and sales acceleration technology, Burmeister increased conversion from lead to opportunity from 8% to 18%.
ScaleX.AI has since grown into an industry leading software that can automate up to 75% sales tasks so company representatives can focus on higher value work.
The company's announced ScaleX Introductions tool in early 2020 to offer companies further sales automation by finding referral opportunities using AI. ScaleX.AI delivers high-quality connections without spamming a company's total available market (TAM).
The Warm Introductions tool has shown positive results. According to company data, Warm Introductions are 181 times more effective than traditional cold calls and companies using the tool can expect 10 or more meetings per month with new connections.
Prospective clients can schedule a demo of ScaleX.AI with one the company's software experts by filling out a form on the website.
This announcement is in line with ScaleX.AI's commitment to providing clients with the software they need to improve their sales through automation. Moreover, the company's AI has gained a strong reputation for its efficient lead generation.
A spokesperson for the company said: "At ScaleX.AI we know how money businesses waste on sales teams that spend hundreds of hours getting subpar results. We are confident that our AI software can provide the perfect solution to this problem and produce great results for any company."
Interested parties can learn more about ScaleX.AI and schedule a demo with the company by visiting: https://www.scalex.ai/demo
ScaleX.ai
ScaleX.ai
https://www.scalex.ai
chad@scalex.ai
+1-800-933-0886
9249 S. Broadway #200 – 407
Highlands Ranch
United States

COMTEX_389579706/2764/2021-07-09T18:31:43