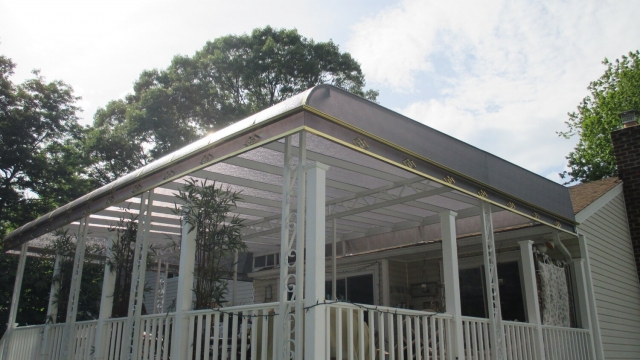 Rainbow Awnings Inc., a specialist provider of awnings and canopies in Nassau County, NY, has launched updates to its services. The company offers custom awning, canopy, and enclosure design and production for commercial and residential properties.
More details can be found at https://rainbowawningli.com
The newly announced services have been developed to provide customers in the New York area with high-quality products at affordable prices.
Investing in an awning or canopy can be a practical way to add additional living space to a home, and value to a property. When properly maintained and installed professionally, awnings can help cool homes during the hot summer months, and lower cooling costs by up to 25%.
With 30 years of experience in the industry, Rainbow Awnings Inc. pride themselves on providing top-quality service for their customers. Whether a client is looking for a durable aluminum awning, a custom Lexan canopy, a stationary or retractable awning, the company works with the customer to ensure they meet their needs.
As specialist suppliers, the company offers customers a full range of creative services, from the initial quote, through design and development up to installation. Rainbow Awnings Inc. understands that the most time- and cost-effective way to build the right product for the customer is to use the best quality materials, and get the installation and fitting right the first time.
Their Lexan awnings use a polycarbonate resin thermoplastic that's well-suited to molding and shaping thanks to its thermoplastic properties. It's an ideal substance for strength and flexibility in awning manufacturing and results in a finished product that can handle temperature fluctuations, resist high levels of impact, and is simple to drill and bend without damage.
With the latest announcement, Rainbow Awnings Inc. continues to invest in supplying quality workmanship, products, and services to customers in Freeport, Oceanside, and the surrounding New York area.
A satisfied customer said: "I just had my beautiful awning installed. The workmanship is superior, the awning is beautiful, and the installers were excellent and very knowledgeable. If you are looking for an awning, Rainbow is the company to deal with."
Interested parties can find more information by visiting https://rainbowawningli.com
Rainbow Awnings LI Inc.
Rainbow Awnings LI Inc.
https://rainbowawningli.com/
awnings4u@gmail.com
+1-516-889-8301
3670-14 West Oceanside Rd.
Oceanside
United States
COMTEX_389578235/2764/2021-07-09T17:26:24