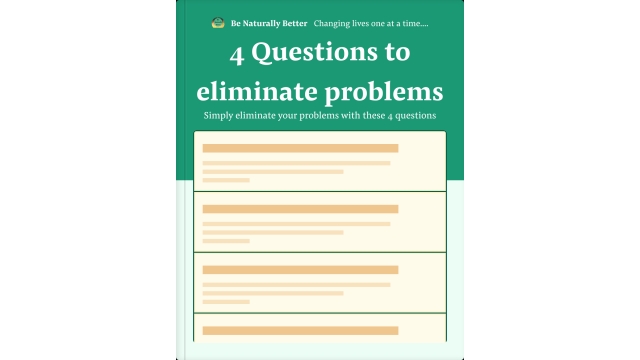 Coaching/Mentoring business, Be Naturally Better, has published a new how-to guide dedicated to helping Parents Relieve stress. This guide will also have information useful to anybody facing the challenge of eliminating problems in your life.
Interested parties are invited to review the how-to guide in full on their website: https://www.benaturallybetter.com/squeeze-page1624079773003
This most recent how-to guide from Be Naturally Better contains precise and detailed steps and instructions, designed to be used by Working Women and others who find the problems of juggling family and career challenging and stressful. This guide Relieves stress, quickly and easily.
Be Naturally Better states that this accessible, easy to follow guide provides all of the information necessary to fully understand the topic, to get the results they want.
The Full How-To Guide Covers: The 4 questions to answer to eliminate any problem – The brain does not deal with uncertainty, so by answering these 4 specific questions, it creates uncertainty in your mind and so the problems are removed. Thinking Styles – Complete the Personal Profile to discover your thinking style. Then book a free unpack to explore with a coach what that means for your life. Ultimate you – Discover how you can reclaim your true authentic self, so you can live your life with passion and purpose.
When asked for more information about the guide, the reasons behind creating a guide on Eliminating Problems and what they hope to accomplish with it, Narelle Christie, Founder at Be Naturally Better said: "I have found this simple strategy to be a life changer. To be able to eliminate the stress created by problems, quickly and effectively, lightens the burden of any problem. "
Parents and anybody interested in Eliminating Problems are invited to review the how-to guide online: https://www.benaturallybetter.com/squeeze-page1624079773003
More information about Be Naturally Better itself can be found at http://www.benaturallybetter.com
Be Naturally Better
Be Naturally Better
http://www.benaturallybetter.com
narelle.christie@benaturallybetter.com
PO Box 65
Sale
Australia
COMTEX_389495606/2764/2021-07-07T22:57:28