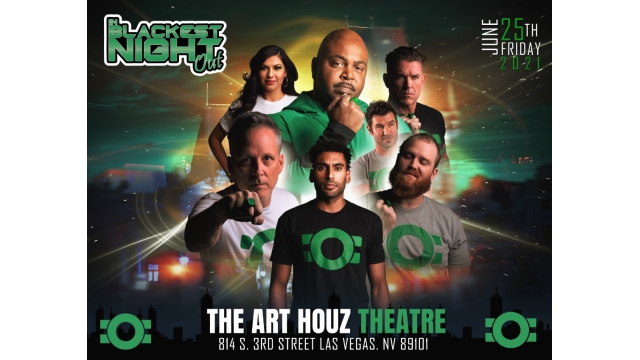 "In Blackest Night Out," an independent short film written, directed by, and starring BZ "The Voice" Cullins, premiered last month in Las Vegas to more than 200 VIP guests and fans. The film follows the adventures of a group of Green Lanterns when their night off is disrupted.
For more details go to https://inblackestnightout.com
Cullins's latest film premiere follows his Green Lantern short film from 2020, "In Brightest Day Off." The short film premiered on Friday, June 25th in Las Vegas at The Art Houz Theater on South 3rd Street. The VIP screening premiered at 7:00 pm, followed by showings at 7:45, 8:30, 9:15, and 10:00 pm.
With a global online watch party set for Sunday July 11th at 12pm and 8pm Pacific Time, the filmmakers anticipate international film festivals in the short future.
"In Blackest Night Out" stars Cullins as John Stewart, Ally Rodriguez as Jessica Cruz, TJ Wimbs as Hal Jordan, Mark Justice as Kyle Rayner, John McClain as Allan Scott, Gus Langley as Guy Gardner, and Gary House as Simon Baz.
The forthcoming film has a running length of only fifteen minutes, but is produced on par with a major motion picture. It features an all-star SAG-AFTRA cast, an original music score by Michael Angelo Saulsberry, and an original soundtrack.
The soundtrack contains both established artists and newcomers, with a title track sung by Karla Moscato. Other contributors include Ray Prim, Belgian jazz pianist Bachot Muna, Prophit Child Paul, Eada Breax, and Jbo of the Atlanta hip-hop sensation YoungBloodz.
"In Blackest Night Out" is a ReJoyce Media film, produced by Scott Harris (Para Bellum Productions), Edgar Alejandro and Adriel Roman (Rising Again Productions, Las Vegas, NV), and Sherry West (W.E.A.R. Media Group, Los Angeles, CA). Any parties interested in this new short film can register on the movie's website for the July 11th watch party as well as subscribe to its YouTube channel here https://www.youtube.com/channel/UCpYnTxSAc4NLDvkaXX4SMow
The soundtrack is currently available on all major music streaming services: Apple Music, iTunes, Spotify, Pandora, YouTube Music, and iHeartRadio. Movie-themed merchandise and music videos are available on the film's website.
Interested parties can go to the websites above, follow @Inblackestnightout on Instagram, @blackestniteout on Twitter, or the film's Facebook page here https://www.facebook.com/In-Blackest-Night-Out-109501931323409 for more details on the June 25th Las Vegas world premiere of BZ Cullins's "In Blackest Night Out." PHOTO CREDIT: Robert Swapp Photography
PARA BELLUM PRODUCTIONS LLC dba In Blackest Night Out
PARA BELLUM PRODUCTIONS LLC dba In Blackest Night Out
https://inblackestnightout.com/
6422 Rose Tree Lane
Las Vegas
United States
COMTEX_389253174/2764/2021-07-02T12:03:45