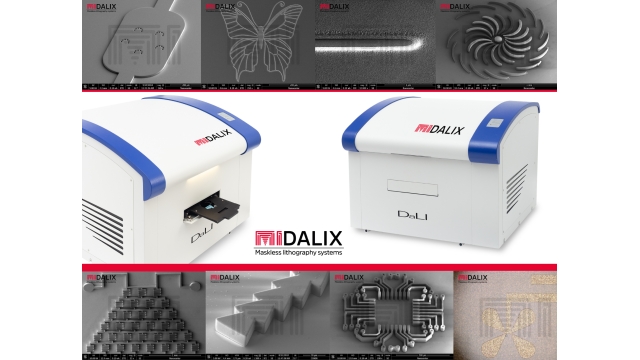 A direct-write, software-controlled lithography machine called the DaLI has been launched on the US market by miDALIX. The DaLI is a universal, tabletop, maskless lithography system for all standard photoresists. It is an affordable cutting-edge technology tool that is ideal for research facilities such as laboratories and universities.
More details can be found at https://midalix.com
Recently launched, the system is easy-to-use and can be operated successfully by those with no previous experience of the laser lithography process. The process can be fully controlled via a PC and, utilizing the intuitive design of the DaLI, plus the proprietary software does significantly reduce the time taken to produce prototypes, and make design amendments.
Maskless lithography offers users both cost and time savings since it removes the complicated process of sample-to-mask alignment. The system is compact and convenient for table-top use, it is capable of writing to a sub-nanometer level, it offers multi-layer alignment, and is thermally stable.
Substrate preparation is the first stage in the lithography process and involves careful cleaning to remove any contaminants. After which, a uniform film of photoresist is applied to the substrate so that the pattern can be exposed using the DaLI's precisely guided laser beam. Finally, during the development process, either the exposed or unexposed photoresist areas are dissolved.
Commonly used in the production of semiconductors and printed circuit boards, the technology can also be applied to MEMS, photomask production, quantum devices, micro-optics, and more. Detailed information on the technology process can be found at https://midalix.com/technology
Supplied with the exclusive DaLI software and a CAD library, the package includes a chiller to provide temperature stabilization, and all the required cables and hoses. The chiller enables improved precision and reliability for the microstructuring process while the CAD allows individual, unique designs to be created or imported and modified.
A spokesperson for the University of Nova Gorica said: "The DaLI is a device that allows us to accurately fabricate metal electrodes on nanostructures, which is crucial for the course of our research. We use the device daily, several days a week. We appreciate its accuracy, compactness, speed, friendly interface, and extensive range of structure design tools."
Full details about the applications for which it can be used are available at https://midalix.com/applications
MIDALIX Maskless Lithography Systems
MIDALIX Maskless Lithography Systems
https://midalix.com/
info@midalix.com
35 Glinje
Cerklje na Gorenjskem
Slovenia
COMTEX_389814578/2764/2021-07-14T16:21:57