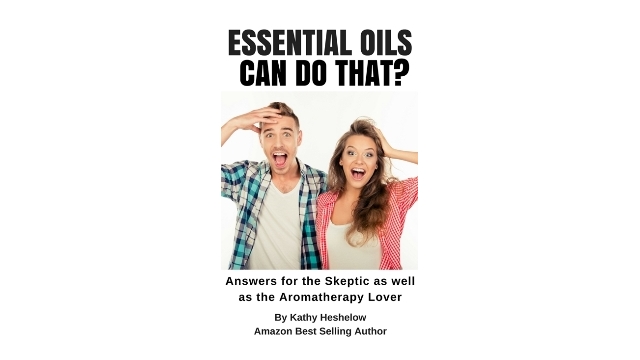 Best-selling author Kathy Heshelow has just released her latest book entitled "Essential Oils Can Do That? Answers for the Skeptic as well as the Aromatherapy Lover". The book is available in paperback and in Kindle format on Amazon.
"I wrote this book because there are so many skeptics, people who don't know what essential oils can do for wellness," says Heshelow. "I encounter those who think the oils may just smell nice but nothing more than that. The book addresses 13 areas that may be surprising, and are certainly powerful."
Heshelow, who lived in Paris for 16 years, was introduced to essential oils and the art of aromatherapy in France. France is considered the center of modern aromatherapy, where medical personnel, clinics and pharmacies trained in the science of the oils offer them to the public.
"Essential oils are but one of many important tools for wellness," says Heshelow. "Plant-based, each oil holds different qualities and powers that can aid us from stress and sleep to more serious medical issues. The book points out medical research, publications and authoritative sources. However, I kept it easy to read and to the point!"
"Use This For That: Your Easy Essential Oil Guidebook" by Heshelow continues to be a popular best-seller on Amazon. It helps match up which essential oil can help with different issues. The new hardback copies are now available, following the 2017 publication of the Kindle and paperback editions.
Heshelow is author of over 45 books at this date. This includes books on essential oils, children's workbooks and books for the aging mind. She is bringing out a series of wellness recipe books in 2021. All published books can be found through her Amazon author page, or on her site BooksByHeshelow.
The Facebook author page is found here, and announces when special discounts, new book or free copies are available.
Sublime Beauty NATURALS
Sublime Beauty NATURALS
http://www.sublimenaturals.com
+1-727-319-6303
11125 Park Boulevard North
Seminole
United States
COMTEX_389701454/2764/2021-07-12T16:07:28