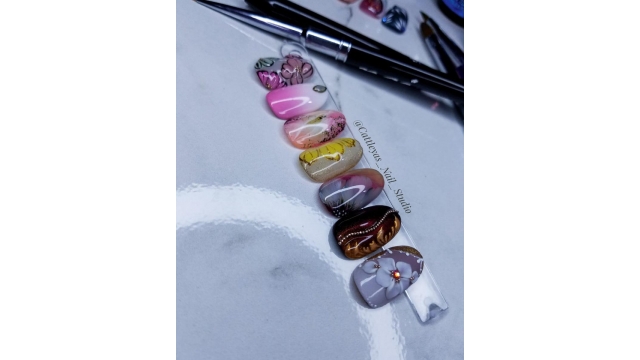 NSI Nails Guyana will bring together a leading Gel Nail Artist, Priscilla De Abreu, and Certified NSI Nail Technician Educator, Lexann McPhoy to help nail technicians discover new products and techniques to boost revenue & skills.
Nail Technicians will meet and learn from these gifted collaborators on July 25, 2021 at the Le Beautique by Niketa, Tower Hotel, 74-75 Main Street, Georgetown, Guyana.
"As nail technicians seek to rebound from lost revenues due to the pandemic, it is critical that they provide more value to clients. NSI Nails Guyana has helped to mentor nail techs through the challenges of the industry and we are committed to delivering education, job opportunities and events that will uplift nail techs and produceâ?¯a stronger community." said Lexann McPhoy, CEO of NSI Nails Guyana.
"Its a privilege to share personal experiences gained creating Gel Nail Art using the NSI PolyPaste, the NSI Gel in a tube. Working with these NSI Products and brushes resulted in many unique designs faster and easier than with other products", said Priscilla De Abreu, of Cattleyas Nail Studio.
The goal of the sponsors of the workshop is to provide reliable and insightful guidance to nail technicians to help them grow theirâ?¯businesses by providing value added services to clients.
All materials including 3 NSI Art brushes will be provided.
To register to attend the Gel Nail Art workshop, please WhatsApp +5926222822, or register at NSI Nails Guyana Facebook Page.
About NSI Nails Guyana
NSI Nails Guyana is the local agent for Etrog Enterprises, Inc. which distributes nail products that are manufactured in a best-practices environment so that your customers have the best experience with quality nails. Etrog Enterprises, Inc. is the exclusive distributor to wholesale and retails customers within the 15 member Caricom nations, dependencies, associate, and observer countries, as well as the US Virgin Islands, British Virgin Islands, and the Cayman Islands. NSI products are professional-only high-quality premium USA-made products for discriminating clients. Clients love NSI products because it is low maintenance and always results in a natural look and feel.
Website: https://www.etrognsi.com
NSI Nails Guyana
NSI Nails Guyana
http://www.nsinailsguyana.com
pr@etrognsi.com
57 Hadfield Street
Werk-en-Rust
Georgetown
Guyana
COMTEX_389523564/2764/2021-07-08T09:41:39