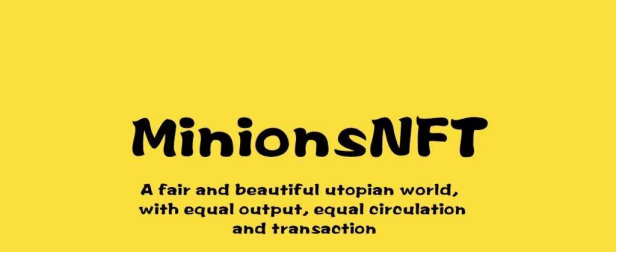 Since the CryptoKitty of 2017, there have been nearly 10,000 categories, tens of millions of NFT collections casting, circulation, trading, scattered to the hands of users, including games, cards, network domain names, encrypted works of art in the majority. The reality that the vast majority of NFT as "collections" or "cards" are still limited to small areas, small circles, small communities, most of their users are difficult to circle, and the heat is difficult to last for a long time has prompted more in-depth discussion and thinking: if NFT can one day grow into an important track comparable to the proposed DeFi of tens of billions of dollars, what is the killer application that supports such a large number of users and market value?
We come from a community-based team, a community-based organization composed of NFT technology enthusiasts, which has launched a DeFi +NFT+DAO project DeFi +NFT+DAO Minions swap dedicated to the research and production of innovative agreements in the field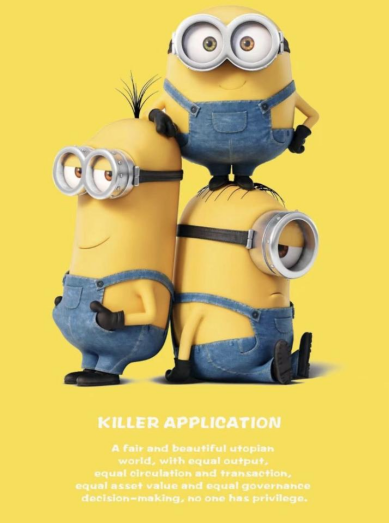 Minions-swap is a NFT decentralized trading product built on the Ethernet network to create a new infrastructure for DeFi+NFT ecology. At the same time, we propose and implement the double-stranded DeFi+NFT basic model based on the fire coin ecological chain and the Ethernet public chain. A "dual mining mechanism" that supports liquid mining and NFT cloud mining ".
The yellow man NFT "is a robot cast with genetic variation DNA、 fatty acid and two and a half cups of banana mud. By introducing it in the form of a blind box of time capsules, two yellow people can NFT be used to cast new yellow people. The new yellow NFT is a new and unique yellow man with parental genetic characteristics NFT. Each encrypted yellow man has 23 pairs of genomes and different combinations of gene sequences. All encrypted yellow people are unique.
Minions-NFT will undoubtedly be the most dazzling star in many DeFi projects!
first, the Minions.NFT is to Minions the NFT asset standards on the blockchain, derived from community teams, Minions.NFT retain the four metadata fields of the NFT: and can issue any kind and any number of NFT assets within a single contract for cross-game, cross-contract NFT asset transfer protocols for the game. A new generic asset agreement was developed.
Secondly Minions.NFT as an open game ecological non-homogeneous card for special equipment and props, participate in the game of economic and ecological model, build a cross-game ecosystem.
We believe that with the deepening of the concept of data as assets, Minions will have more and more digital assets in the form of NFT, and we will eventually usher in a milk-like digital economy world