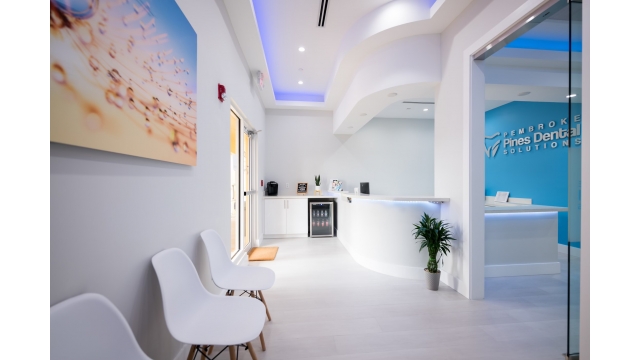 The latest Pembroke Pines dental office is celebrating its eighth month in business! Pembroke Pines Dental Solutions – 18450 Pines Blvd. Suite 202 Pembroke Pines, FL 33029 Tel. (954) 947-2151 officially opened its doors on October 27th, 2020, at the height of the pandemic. That meant scrapping all plans for a grand opening and even a soft opening. Despite that, Pembroke Pines Dental Solution is making head waves with local residents. It now opens six days a week after Ron DeSantis, Florida's Governor, signed an executive order suspending all remaining Covid restrictions on Monday, May 3rd, 2021.
Pembroke Pines Dental is the brainchild of Dr. Annabel Perez, DMD. She is an experienced South Florida dentist and a Magna Cum Laude graduate of Florida International University. When asked about opening a dental practice in Pembroke Pines, Florida, Dr. Perez responded. "After you are a dentist for a while, you start envisioning having a practice. A place where you decide on how things are done and where there will be no cutting corners when it comes to patient care. That is why when planning the office, we invested in the best technology."
Pembroke Pines Dental Solution is, without a doubt, doing something right. In the last three months alone, they have received over one hundred five-star reviews on Google and are trending to break two hundred before the end of the year. Many dental practices in the area who have been in business for a decade or more can barely reach fifty reviews, and very few of those are five stars. When asked about this, Dr. Perez responded. "we don't think it is anything magical! We have been noticing the change in the dental industry for a while. One of the reasons for opening the practice was because we wanted to worry less about what is the insurance code required for billing and focus more on the quality of services we provide. At Pembroke Pines Dental we think that what you are seeing is the market responding to better services, at the same or a lesser cost."
Pembroke Pines Dental Solution, in Pembroke Pines, FL, is a full-service dental office offering emergency dental care and preventative dentistry as well as cosmetic dentistry procedures like Invisalign and Botox! And if you suffer from anxiety or are scared of going to the dentist, don't worry. Between 9% and 20% of Americans avoid going to the dentist because of anxiety or fear. With our light sedation option, you won't feel a thing!
For more information, you should contact Dr. Annabel Perez, DMD, and her professional staff at Pembroke Pines Dental Solutions – 18450 Pines Blvd. Suite 202 Pembroke Pines, FL 33029 Tel. (954) 947-2151 Website: www.PembrokePines.Dental
Pembroke Pines Dental Solutions
Pembroke Pines Dental Solutions
https://pembrokepines.dental
+1-954-947-2151
8450 Pines Blvd
# 202
Pembroke Pines
United States
COMTEX_389701452/2764/2021-07-12T16:07:28