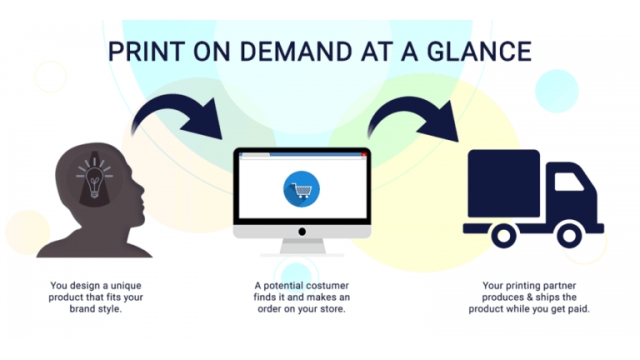 EZBrandOnDemand announced the launch of a print-on-demand merchandise store. The service assists consumers from the initial creation of a design to building an online store to manufacturing and shipping merchandise.
More information is available at https://ezbrandondemand.com
This announcement provides an easier option for consumers to start their own ecommerce store, sell custom merchandise, and build brand awareness. They offer everything needed to start or develop an online store through print-on-demand solutions.
The company makes starting an online business easier by shouldering a large portion of the required financial burden. Using a print-on-demand service spares consumers from the expense of renting or purchasing inventory space and paying upfront for products.
The service also eliminates the work and hassle of building a business by allowing consumers to create and sell products without worrying about production, inventory, or shipping. Not only does it allow more financial freedom through print-on-demand drop shipping, it also allows more time for individuals to focus on other parts of their business such as interacting with customers.
The simple process begins by first selecting a package to suit an individual's needs. Next the company works directly with the consumer while utilizing partner fulfillment services located across the USA. The company then presents the consumer with a completely finished site that is ready for sales and built on top of their proprietary shopping cart and merchandising software. The service produces and ships items directly to customers as they are purchased.
Depending on the package selected, consumers have over 30 products available to choose for their brand such as t-shirts, hoodies, sweatshirts, bibs, bracelets, necklaces, dog tags, pendants, footwear, tote bags, mugs, sneakers, flip-flops, and more.
A spokesperson for the company stated: "We design quality to production, premium print-on-demand merchandise from your brand straight to your customer's door. Our packages are made with you in mind. Whether you are just starting out or have experience, we tailor and design the products just for you. Our expert teams have over 10 years experience designing print-on-demand merchandise in a wide range of industries."
Interested parties can find additional details at https://ezbrandondemand.com
Venstar Marketplace, Inc.
Venstar Marketplace, Inc.
https://ezbrandondemand.com
info@venstarmarketplace.com
+1-888-545-4115
P.O. Box 594
St. George
United States
COMTEX_389701437/2764/2021-07-12T16:07:25