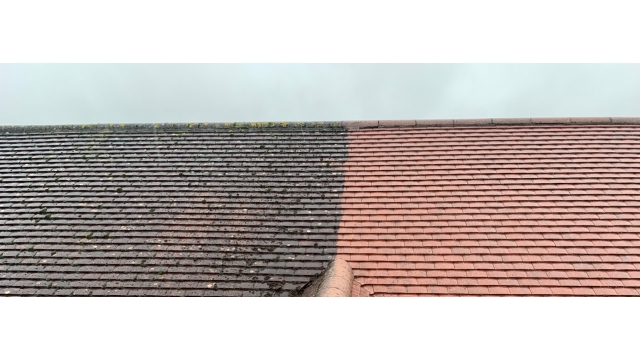 Earlier today, Solaris Exterior Cleaning announced the launch of its new softwash roof cleaning service, set to go live 1st August 2021. For anyone with even a passing interest in the world of roofing, this new development will be worth paying attention to, as it's set to shake things up.
Currently, with even a passing glance, a person will notice the majority of roof and exterior cleaning companies use a high-pressure wash system. At Solaris, we specialise in using the right tools for the right job and if we can we will use low-pressure systems. One of the partners at Solaris Exterior Cleaning, Ben Miller, makes a point of saying "Things are going to change when our Softwash Roof Cleaning service launches".
Ben Miller continues… "Where you'll always see our competitors doing the same old thing, we will speak to our clients on a level without using any sales "tactics". We do this because we prefer our clients to know the whole process involved rather than feel pressured to do business with us. Ultimately, this is going to be a huge benefit to our customers because they will be able to get their roof or building cleaned while feeling relaxed."
Solaris Exterior Cleaning was established in early 2021 based in Maidstone, Kent. The partners have 27 years experience in the industry and they have always aimed to innovate in any large or small way it can, due to the firm belief that innovation drives progress and greater happiness.
Currently, the closest thing to Solaris Exterior Cleaning's Softwash Roof Cleaning service is your run of the mill roof cleaning company, but Solaris Exterior Cleaning improved on this by providing a more client-focussed experience. This alone is predicted to make Solaris Exterior Cleaning's Softwash Roof Cleaning service more popular with customers in the exterior cleaning space, quickly.
Once again, the Softwash Roof Cleaning service is set to launch 1st August 2021. To find out more, the place to visit is https://solarisexteriorcleaning.co.uk
Solaris Exterior Cleaning
Solaris Exterior Cleaning
https://solarisexteriorcleaning.co.uk
+44-1622-246116
King Street
King Street
Maidstone
United Kingdom
COMTEX_389821729/2764/2021-07-14T18:41:24