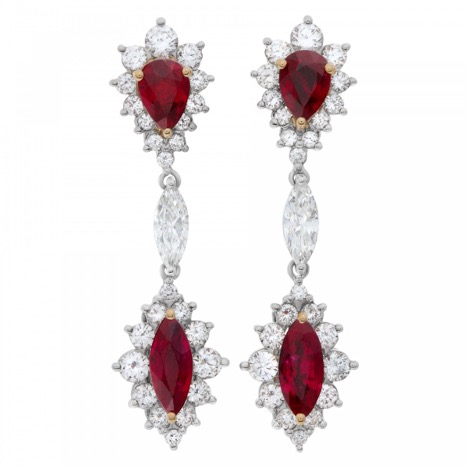 Classic and Timeless! Diamond earrings are one of the most regularly bought items of jewelry in the world! Regardless of the era, diamond studs never grow out of fashion. These precious stones bring out the sparkle in anyone's eyes.
Diamond stud earrings became popular in the early nineteenth century and are still considered a staple in the jewelry industry today. Diamond earrings can be dressed up or dressed down. These stoned studs are the cornerstone of any and every woman's wardrobe. Many people put diamond studs on and never take them off!
If buying a diamond ring is too large of a commitment for you right now, studs are the next best diamond alternative! These earrings are the most classic every-day pair of earrings one could ever get. When deciding on diamond earrings, there are a couple of factors one wants to look into prior to pulling the trigger. Here we have provided you with a clear guide on how to choose the perfect diamond earrings.
Set a Budget
The first thing one wants to do before even stepping into a jewelry store is determine how much they wish to spend. Regardless of whether these studs are a product of retail therapy, to celebrate a holiday, or to be given as a birthday gift, diamond earrings are very big purchases! You want to make sure you're getting good quality diamonds at the right price.
Often given as wedding gifts, brides wear diamond stud earrings on their wedding day and forever on as a continual reminder of that special day. A-list celebrities such as Meghan Markle have been spotted wearing their wedding day studs as casually as a wedding ring.
Diamonds earrings are a staple piece to any outfit. Since this purchase is one that lasts a lifetime it can be passed down generations. For this reason, most secure a budget around the thousands than in the hundreds, unless the diamond earrings are for a baby.
Decide on a Size and Shape
When one is measuring the carat weight in diamond earrings, this weight is usually referred to as "total carat weight" and is the combined diamond weight of both earrings. The standard diamond studs are usually round brilliant cut and have a total carat weight of one carat.
This means each individual diamond earring has a total diamond weight of half a carat each. The diameter of a .5 carat diamond is 5mm while the diameter for a 1-carat diamond is only 1.4mm larger.
For this reason, people should not focus on weight when it comes to diamond earrings because bigger is not always necessarily better. The larger a diamond is, the more likely it is to weigh down and hang off the ear which is not very flattering. The flatter the setting is for diamond earrings, the better it will sit on the earlobe.
As for shape, the most popular cut is round brilliant and princess cut. These cuts provide the most symmetry and are the easiest to find in matching pairs. When it comes to diamond earrings, one wants to make sure the pair of diamonds not only match in weight and cut but that their color and clarity coordinate as well.
Decide on A Setting
The next step is to decide on what kind of earring settings you would like to hold the diamond. The first step in deciding on this factor is choosing the kind of precious metal your setting will be made our of. The most popular metals are 14k/18k yellow gold, 14k/18k rose gold, 14k/18k white gold, platinum, or sterling silver.
Once the metal component has been chosen, one must decide on the styles of earring setting they would like. Whether the diamond is secured with three prongs or eight will all contribute to the final look of the diamond studs.
The most classic three-prong "Martini setting" is one of the most popular diamond stud settings there is simply because of its ability to showcase the diamond. The more prongs a diamond earring setting has, the smaller the diamond may appear.
While a two-prong setting may seem like the best way to see as much of the diamond as possible, it is not the safest route in regards to the security of the diamond. Basket settings with 4 prongs or more are more appropriate in diamond studs whose total carat weight surpasses 1 carat.
While it may seem uncomfortable to wear, screw-back earring posts are the best possible thing one could possibly invest in when getting their diamond earrings. These posts require one to screw the back of the earring onto the post which secures it to your ear. These posts can sometimes be too thick for some earring holes, so one may want to try them on before deciding on getting one.