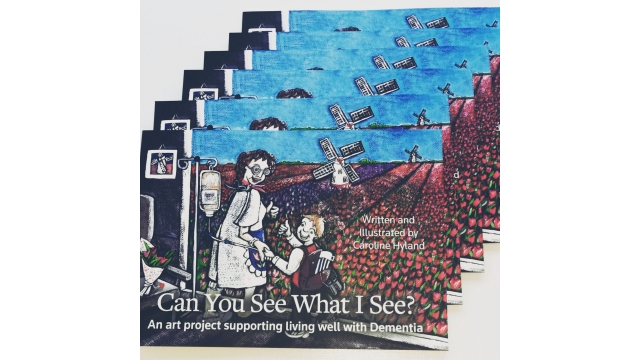 Illustrator Caroline Hyland has just released her book 'Can You See What I See?'. It will be of interest to people with a diagnosis of Dementia and those that support them. It can be used as a training resource in the fields of health and social care and to open up conversations within people's homes and wider society.
The book is 40 pages and includes 12 full colour hand painted illustrations with accompanying text. It is based on an accumulation of observations and conversations with people living with dementia and with those that support them. It evolved from an visual arts project that initially toured as an art exhibition to various venues in Ireland between 2017 and 2019. Caroline Hyland has also presented the work to a variety of audiences, including people with dementia, their families, healthcare workers and students, and at the International Dementia Conference in Dublin, Ireland in 2018. The book is available for purchase at her website: carolinehyland.com
Hyland has generously decided to donate all profits from the book sales to the "Living Well with Dementia" HSE Community Project in Ireland.
The book aims to promote living well with dementia and advocates for a society to see the person first and not the disease. It is hoped the book will help start conversations and inspire all to see people that live with dementia as valued citizens.
Can You See What I See? focuses on how we can support people living with dementia to remain engaged, feel included and live well in their communities. Each picture is accompanied by text that tells a story and offers the reader some suggestions of support, the practical things we can all do, which may have a positive effect on a person's day. Hyland also shares her own story, her personal interest in dementia and her passionate belief to see the person behind a diagnosis; "to see the person ….not the disease."
Inspired by the effect dementia had on her relationship with her own grandmother, and wishing to face her own personal fears, Hyland has harnessed her creativity to produce a lavish, yet practical book designed to encourage a focus on the individual living with dementia, rather than on the dementia itself. When asked about why she wrote the book, Hyland states: "In this book, I'm trying to convey that as human beings, no matter our diagnosis, disease or disability, we need to be seen and treated as people first. A diagnosis of dementia should not make someone any less valued as citizens in their society. We need to include people with dementia and listen to what they want."
In his foreword, consultant gerontologist at Tallaght University Hospital, Dublin, Ireland, Professor Desmond O'Neill, describes the illustrations as "beautiful and thought-provoking".
"A picture is truly worth a thousand words, and Caroline Hyland has developed a portfolio of beautiful and thought-provoking paintings with accompanying text which are a milestone in harnessing the power of art to better understand how the new world of the 'Now' in dementia engages with not only the past but also the present and their relationships with those around them."
More information on the book (including sample pages) can be found online. "Can You See What I See?" is available from carolinehyland.com Price EUR16 (plus P&P) and shipped world-wide.
All profits from book go to the "Living Well With Dementia" HSE Community Project in Ireland.
ENDS
Caroline Hyland, Illustrator and Art Facilitator
As a former occupational therapist, Caroline Hyland has a background in art, health and education. She is a freelance illustrator and art facilitator whose work has appeared in several Irish newspapers, including The Irish Times and The Irish Independent. Caroline works in Dublin, Ireland as an art facilitator at the National Centre for Arts and Health, Tallaght University Hospital and as an art mentor in DoubleTAKE, a community arts studio dedicated to developing and supporting people with disabilities to develop their creativity through the arts. She also facilitates art sessions with the Living Well with Dementia project and provides visual supports for people with intellectual disability at advocacy committee meetings. Caroline strongly believes that information can be made more accessible to everyone through the medium of visual art. Caroline has a degree in Visual Communications, a HDip in Art Education and a Masters in Occupational Therapy.
Case study on the 'Can You See What I See?' art project available at: http://www.artsandhealth.ie/case-studies/can-you-see-what-i-see/
Contact: info@carolinehyland.com Or call: +353 86 0795841
Linkedin: Caroline Hyland Illustrations
Facebook: @carolinehylandillustrations
Instagram:@carolinehylandillustrations
Twitter: @HCarolinehyland
Living Well with Dementia (LWwD)
All proceeds from the book will go to LWwD, a HSE-supported, community project in south Dublin, Ireland that aims to support people diagnosed with dementia and their families to raise awareness, reduce stigma and promote early diagnosis.
LWwD envisages a community that respects, supports, and empowers people with dementia; a community in which people with dementia are socially and culturally valued; a community where people with dementia still actively participate in a safe environment.
Visit LWwD online or email Mary Spain at mspain@livingwellwithdementia.ie
Caroline Hyland – Self Published
Caroline Hyland – Self Published
https://carolinehyland.com/
info@carolinehyland.com
Dublin
Ireland
COMTEX_389247733/2764/2021-07-02T08:46:41