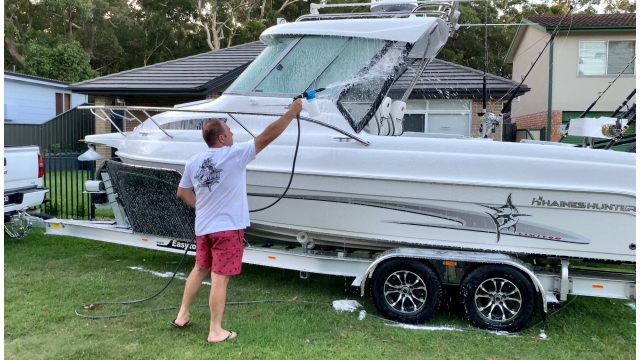 Seaman Marine in Australia has launched a unique Salt Wash product designed to simplify the ongoing task of protecting boats from saltwater damage.
More information can be found at https://theseamanmarinesolution.com/salt-wash
Saltwater can do severe damage to a boat's exterior and parts over time. The newly launched Salt Wash from Seaman Marine provides an easy-to-apply solution for removing this salt build-up.
Over time, saltwater can cause the hull of a boat to fade more quickly and become prone to scratches, especially on boats designed for freshwater. Corrosion from saltwater can also harm propellers and other boat parts, whether they be metal or wood.
It is important to maintain all boat surfaces. Many boaters take their vessels to be professionally cleaned or have them washed at the marina to avoid salt accumulation.
With Seaman Marine's Salt Wash, boat owners can complete this task themselves, avoiding extra costs and the tedious process of waiting in line. This solution is very economical to use and can be easily sprayed on and rinsed off of the entire boat.
Salt Wash is environmentally friendly and simple to use. It can be used to remove saltwater residue from fibreglass, aluminium, vinyl, stainless steel, painted surfaces, plastic, wood, glass, and rubber. The product is concentrated and non-toxic.
This 100% Australian-made product is a foaming wash that protects gel coatings, waxes, sealants, and finishes from oxidation and rust. In addition, it will remove any surface odor remaining from the last fishing trip and leave an enduring shine.
The Seaman Marine Salt Wash Kit can be ordered online and includes Salt Wash, the Seaman Squirter, a Seaman Marine wash bucket, a wash mitt, and a microfiber towel. Customers can order up to 5 litres of Salt Wash with their kit.
The Seaman Squirter is used to direct the foaming solution onto a boat's surfaces. It can connect to any standard hose and can be used to adjust the amount of foam delivered.
When used regularly, Seaman Marine's concentrated foaming Salt Wash can leave customer's boats in pristine condition. The high-potency product has been shown to last longer than a majority of other washes on today's market.
Boaters and marina owners can find more information at https://theseamanmarinesolution.com/salt-wash
Speed Parts Pty Ltd
Speed Parts Pty Ltd
https://theseamanmarinesolution.com/
info@speedparts.com.au
2/167 Princes Hwy
Hallam
Australia
COMTEX_389587794/2764/2021-07-09T22:21:35