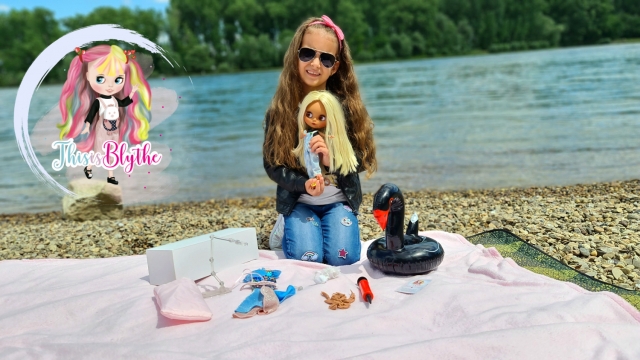 The largest Blythe Doll provider in the world is offering customers access to over 6,000 custom Blythe doll products and accessories such as clothes and shoes. Being a premier custom Blythe doll expert, This Is Blythe Dolls can't be found anywhere else on the market. Their dolls are available in all sizes, including Petite, Middie, and Neo with each adorable collectible doll wearing its own unique charm and appeal.
Blythe Dolls are a stylish generation of fashionable, high-quality, and highly individualized dolls. Characterized by oversized heads and great big eyes, these waif-like figures stand 12 inches (30cm) tall. Their enchanting eyes change both color and gaze with the pull of a string to match a specific mood, personality, or outfit. This Is Blythe doll hair is made from a high-quality handmade fiber hair wig that will last a lifetime. These dolls also have moveable body parts and available extra hands for a variety of gestures. This Is Blythe dolls also comes with an enormous choice of clothing and all kinds of accessories and customers can find patterns to sew their own doll outfits. The dolls' prices range from as low as $49 depending on the artist and level of customization. Some of This Is Blythe dedicated doll collectors have collected incredible 2020 dolls in the United States.
This Is Blythe first started in 2000 as a Blythe photography book, and now has a large following on social media, It also boasts of exclusive features in some of the world's leading publications, including Forbes, BBC 2002, BBC 2019 & The Guardian. As a community-conscious company, This Is Blythe also contributes and gives back to society and the community frequently.
At This is Blythe, the passion to make the best doll is evident in the extra care the team puts in throughout the production process. As the largest provider of Blythe dolls in the world, This Is Blythe also provides customized dolls with customization tools for customers who want a specific request or vision for a Blythe doll.
With an influx of positive reviews coming in for its products, This Is Blythe has amassed a large customer base from buyers across the world. One of such reviews is revealed below: "Perfection! This gorgeous girl arrived in mint condition; each individual part of the doll was securely wrapped. Once I unpacked it, the doll was in perfect condition, even the hair! Amazing quality, so pleased I found this shop! I recommend it 100% without hesitation." "This is a fantastic Blythe doll that I would recommend to anyone," says Josephina K, from Finland.
For more information, visit their website, https://www.thisisblythe.com
Media contact details:
Company name: This Is Blythe
Contact name: Jenna Anderson
Email: info@thisisblythe.com
Country/address: 2704 Thompson Ave, Alameda, CA 94501, USA
This Is Blythe
This Is Blythe
https://www.thisisblythe.com
2704 Thompson Ave
Alameda
United States
COMTEX_389587792/2764/2021-07-09T22:21:34