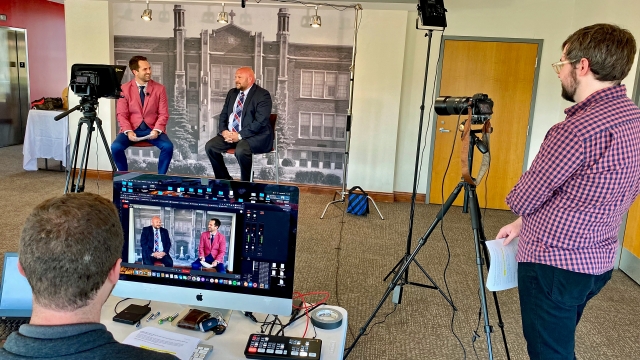 Last year, Buffalo Video Pros announced the launch of its new video livestreaming service, which they began to offer at the beginning of the pandemic. For anyone with even a slight interest in the world of video or people looking specifically for live videography services–this includes live corporate videos, weddings, events, and more–this new development is worth paying attention to, as it's set to shake things up. It appears to be a service that won't be going away, even as the COVID-19 pandemic dies down.
Video is becoming more popular than ever, and despite livestreaming being a newer service, it's likely to stick around.. The Owner at Buffalo Video Pros, Jacob Becker, makes a point of saying "Things are going to change going forward and I don't believe this is a service that will have only been popular during the pandemic. Video Livestreaming is here to stay and will likely be something that people want to offer with their live events going forward."
Jacob Becker continues… "With COVID-19 and the pandemic causing many issues with people being able to attend live events, livestreaming has become a big part of the world of video. Now can bring the events right to the living rooms of viewers–even for smaller events such as weddings or parties, but also for bigger events such as concerts or college graduations. Many other local videography companies have yet to adopt livestreaming as part of their service offerings, but we truly feel this will be an ongoing service that people will want for years to come. We consider ourselves ahead of the game, because we immediately started adopting and studying the art of livestreaming in order to broadcast the most effective streams for our clients. We are an innovative video company and our goal is to be on top of trends and ready to bring top level videographer services to our clients–including the streaming of live events. Ultimately, this is going to be a huge benefit to our clients, because it allows them the ability to showcase any live event to people beyond just those that are in attendance. We believe there are many benefits to this including more opportunity to be involved with the event and to view the event despite whether a person can be there live."
Buffalo Video Pros was established in Established in 2013. It has been doing business enough years to know how to create a really great new service! According to Becker, the ultimate goal of Buffalo Video Pros is to serve as many businesses and people with premium videography services as possible. Whenever they hire a new videographer, they really make sure that individual is experienced, talented, and provide a great experience for every client.
Becker also mentioned how passionate his company is about video work, and how tough it can be when they see a client hire videographers that do not provide a good experience, are not responsive, and lack the ability to create professional and high-level video. Becker stressed how customer service is extremely important to Buffalo Video Pros and so is responsiveness. They try to make communication smooth and easy so their clients can focus on the what they really want–a beautiful video. This philosophy has really helped Buffalo Video Pros and all their video services, including livestreaming, grow more popular with all their clients.
Once again, Buffalo Video Pro's video livestreaming service is available. To find out more about the company and their offerings, you can visit them on the web at BuffaloVideoPros.com.
Buffalo Video Pros
Buffalo Video Pros
https://BuffaloVideoPros.com
jacob@buffalovideopros.com
+1-716-300-6544
151 St James Pl
Buffalo
United States

COMTEX_389264422/2764/2021-07-02T18:09:13