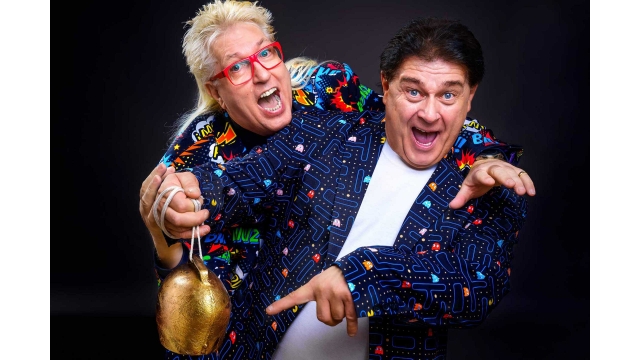 Olaf & Hans, the famed Berlin-based music duo, have announced the release of the English version of their hit song, "You Crazy Moo Moo". The song has been released on all major music streaming platforms.
More information is available at https://www.olafundhans.com
The recent release represents Olaf & Hans' foray into the international music scene and introduces the unique sounds of schlager music to English-speaking audiences.
Popular across Central Europe, schlager music is a genre known for its upbeat melodies paired with quirky vocals. Olaf & Hans have been creating schlager music since the early 1990s and re-entered the music scene in 2014 after a 21 year hiatus. The recent release of "You Crazy Moo Moo" marks a new era in the duo's music making career.
Olaf & Hans offer international fans a chance to enjoy their snarky Berlin sense of humour with this English language release.
The new song features tongue-in-cheek lyrics and original choreography and was created in response to their fanbase's demand for English versions of the pair's hit songs. Olaf & Hans have said their recent release represents their "bold and daring" fresh approach to international music. The two Berlin entertainers aim to prove that they are still just as honest and creative in their music as fans remember them from their previous releases.
Shortly after the song's release, "You Crazy Moo Moo" broke through the German music chart's top 100 list and has gained upwards of 400,000 views on YouTube. The pair have a dedicated fanbase of over 35,000 monthly listeners on Spotify.
With the latest announcement, the two continue their tradition of entertaining partygoers the world over with their unique brand of music.
A spokesperson for Olaf & Hans said, "Olaf & Hans show their fans once again that they are creative, honest, charming, and unmistakably and completely crazy. With their new song 'You Crazy Moo Moo', the two singers have created the crowning jewel to their repertoire."
Interested parties can find more information on the new English language release by visiting https://www.olafundhans.com
Schenk-Veranstaltungsagentur
Schenk-Veranstaltungsagentur
https://www.olafundhans.com
schenkinfo@web.de
Schildower Garten 11
Schildow
Germany
COMTEX_389482388/2764/2021-07-07T14:33:43