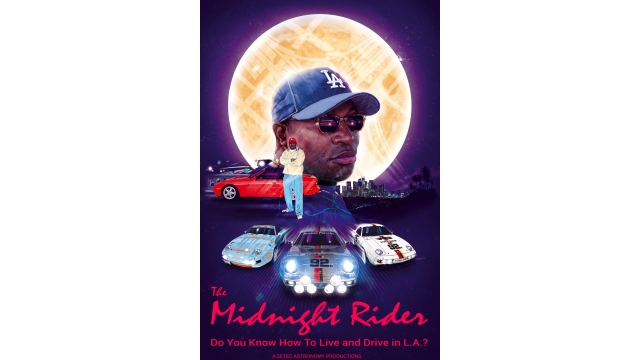 The Alhambra, California-based Classic Porsche Rescue and Restoration organization, in association with Falcon Media Solutions and Maverick Consolidated Ltd, has announced the launch of a new trailer for the upcoming Porsche lifestyle documentary "The Midnight Rider".
More details can be found at: https://www.youtube.com/watch?v=T-bd9TZjgFE
Written by and starring Maverick Miles Nehemiah, the new memoir film documents the Porsche 928 modifier's passion for the unique vehicles, illustrating how he turned his lifestyle into an evolving personal philosophy.
Los Angeles County is home to some 527 miles of freeway and a further 382 miles of conventional highway. The city of Los Angeles covers 500 square miles of territory and provides an ideal backdrop for the upcoming movie.
Touted by many as a renegade, the trailer introduces audiences to Maverick and his collection of customized Porsche 924's, 928's, and 944's, housed within an aircraft hangar in the San Fernando Valley.
As he explains the history and pedigree of the vehicles, his enthusiasm and passion are clearly evident. The relevance of the title becomes apparent as Maverick drives one of his prized possessions into the night, proclaiming that "after midnight the roads are wide open".
While viewers witness Maverick driving along freeways, they are also introduced to the more unique nature of his vehicles. Maverick explains that the process of restoring and customizing is a creative one and that experiencing the joy of driving can be likened to therapy.
The documentary feature is not only a memoir of Maverick Miles Nehemiah but also pays tribute to the importance that Southern California has for the Porsche brand. With the Porsche 928's long withdrawn from production, the movie portrays the enduring spirit of Porsche that is preserved by Californian enthusiasts like Maverick.
Maverick Miles Nehemiah stated: "The best part of this creative process is customizing and styling each one to my satisfaction, and then going out and driving them. I'm going to do it tomorrow night, I'm going to do it Wednesday, I'm going to do it Thursday. Every night."
Interested parties can learn more by visiting: https://www.youtube.com/watch?v=vLyD3sysjYU
CPR & R / CLASSIC PORSCHE RESCUE & RESTORATION
CPR & R / CLASSIC PORSCHE RESCUE & RESTORATION
https://www.instagram.com/iammaverickporsche/
MILESAHEADPORSCHE@GMAIL.COM
701 SOUTH ELECTRIC AVENUE
ALHAMBRA
United States
COMTEX_389871318/2764/2021-07-15T13:20:29