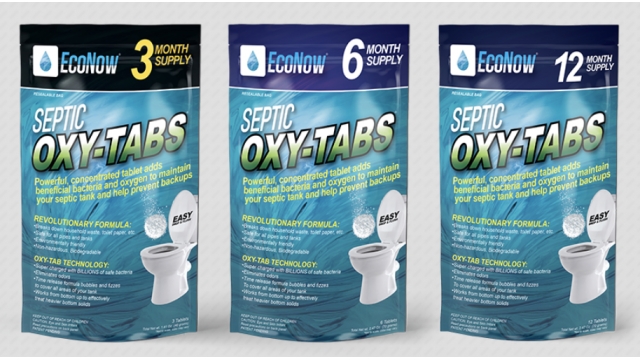 EcoNow Solutions, a waste-water treatment solutions company based in Jericho, New York announced the launch of an updated range of drain and pipe unclogging tablets. The company specializes in developing natural solutions to problems affecting health, the environment and daily living.
More information can be found at https://econowconsumer.com/shop
The company has been successfully providing eco-friendly home maintenance products to the public for many years. The updated products launched offer residential customers easy-to-use, non-toxic tablets that are effective in removing build-up from drains and pipes.
According to the experts at EcoNow Solutions, most people are usually diligent when it comes to cleaning and maintaining parts of their homes that can be seen–kitchen counters, bathroom floors, carpets and furniture. However, most home issues usually start in areas that are hidden–in drains, pipes, garbage disposals, sewage and septic tank systems.
Without regular maintenance, grease, muck and other debris can build up in these channels over time and cause blockage. When pipes and drains are blocked, proper waste disposal is compromised and can become the cause of major water damage and extensive repairs.
Furthermore, stagnant waste water promotes bacterial growth and can become host to disease-causing parasites.
EcoNow Solutions' Drain & Pipe Oxy-Tabs is an innovative product that makes use of patent pending OXY-TAB technology which utilizes oxygen, buffers and billions of beneficial bacteria and enzymes to promote the breakdown of household waste build-up in pipes and drains.
The product is non-hazardous, biodegradable, made of natural and non pathogenic materials. Each tablet is designed to be dropped into drains, pipes and garbage disposals. The time-release effervescent tablets disperse micro oxygen bubbles that distribute the good bacteria along the pipe walls.
The revolutionary product does not only dissolve build-up, it also eliminates and prevents bad odors.
The company also offers Septic Oxy-Tabs which uses the same technology to restore the balance of bacteria in septic tank systems to keep it operating properly.
More information about EcoNow Solutions and their products are available over the phone at +1-516-248-3553 or by visiting https://econowconsumer.com
Ecological Solutions
Ecological Solutions
https://www.econowconsumer.com
+1-800-365-2839
420 Jericho Turnpike #110
Jericho
United States

COMTEX_389746113/2764/2021-07-13T13:33:28