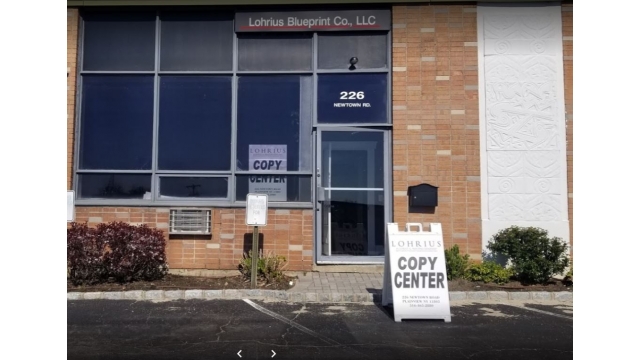 Independently owned and operated Plainview, NY-based Lohrius Blue Print Company is an established print operation serving clients around the globe. The company is currently continuing to offer commercial printing services, in addition to large print and blueprint projects, to clients and is rivaling other businesses and online printers in options and pricing. By providing an extensive list of menu options, Lohrius Blue Print Company has remained a relevant and major player in today's fast-changing, technology-driven printing world.
Focusing on customer services as well as providing multiple service options has allowed Lohrius Print Company to continue meeting client expectations and securing relationships globally with small to large companies. Its customers are from all industries, and the company works with all types of print jobs. They are able to tailor services to individual projects such as business cards, posters, and fliers, as well as large-scale printing, signage, blueprints, and more. Additionally, Lohrius Print Company offers printing of marketing materials, bulk prints, construction documents, and promotional graphics. Lohrius Print Company also dedicates a portion of their business to assisting businesses with print materials for tradeshows. Graphics are done in-house with designers on staff.
Founded exclusively as a blueprint company, Lohrius gradually expanded into the world of full color printing. From there, it quickly grew into a services list that provides all facets of what businesses need to stand out and thrive in today's marketplace. The quality of printing is what sets Lohrius apart and the company's business model is showcasing a high-touch, attention to detail mindset that benefits customers.
Currently, Lohrius Print Company is led by Jimmy Lohrius, CEO, who brings more than 30 years of printing business experience. He is backed by Donna Riso, President, who also has 30+ years in the industry. Together, they lead a team of dedicated employees who range in background from design to production to sales. Jimmy Lohrius created his business in 2000 after working in his family's print shop for several years, where he learned all aspects of the industry and built solid relationships with an extensive network of customers.
Lohrius Blue Print Co
Lohrius Blue Print Co
https://lohrius.com/
copy@lohrius.com
+1-516-465-2880
226 Newtown Rd, Plainview, NY 11803
Plainview
United States
COMTEX_389980304/2764/2021-07-17T16:45:51