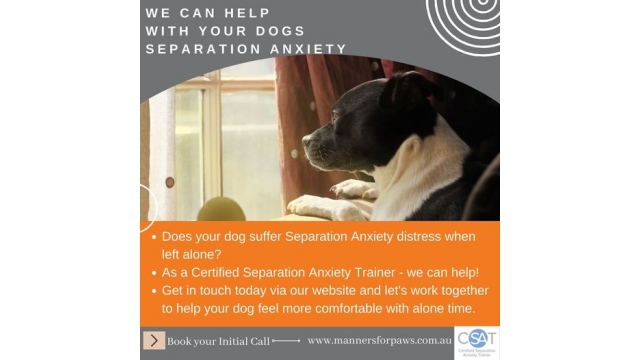 Melbourne, Australia, July 03, 2021 – For over a year, Australians working from home have spent more time with their dogs than ever before. More playtime with four-legged friends nurtures long-lasting relationships. However, most dog parents will likely spend less time with their pets as Australia attains some sense of normalcy. These changes increase the risk of separation anxiety. To help dog parents in Melbourne, Manners for Paws offers a comprehensive 4-week program to treat separation anxiety.
Separation anxiety in dogs is common. However, signs of separation anxiety like excessive barking and destruction around the house become more pronounced when dogs spend more time alone. Instead of focusing on these behaviours, Manners for Paws' 4-week Training Program seeks to address underlying causes of separation anxiety. It goes beyond anxiety-related behaviours and involves both parties – dog parents and their furry friends.
"The best way to treat separation anxiety is through individualised desensitisation protocols," says Sharon, a Certified Separation Anxiety Trainer at Manners for Paws.
This innovative approach combines several strategies to build dogs' confidence and help them feel less anxious about being left alone. Sharon is also an Accredited Behaviour Consultant and oversees the entire program remotely via Zoom or Skype, with a live reassessment at the end of every week. Before pet parents in Melbourne start the program, they can consult with Sharon. This free service can then determine whether their furry friends have separation anxiety.
Whether the dog parent is returning to work full-time or not, they have to sign a contract with their dogs. This contract affirms dog parents' commitment never to leave their furry friends alone for longer than they can handle.
"We help pet parents and their dogs by creating tailored individualised protocols known as Missions," says Sharon.
Manners for Paws schedules Missions 5 days per week with daily exercises for each Mission day. It customises the training to address underlying catalysts like unpredictability, which can heighten anxiety for dogs. Mission day exercises may include training designed to create some routine.
"If a dog parent knows change is coming, we help them introduce their four-legged friend to the idea of being alone beforehand," says Sharon.
Implementing these small changes can help dogs prepare and reduce susceptibility to separation anxiety. While most programs focus entirely on pets, Manners for Paws' training program includes daily Missions to help dog parents cope with stressful situations. "We help pet parents relieve some of the worry, stress, and guilt," says Sharon, "We give them peace of mind."
To learn more about Manners for Paws' training program, visit mannersforpaws.com.au.
Manners For Paws
Manners For Paws
http://www.mannersforpaws.com.au
sharon@mannersforpaws.com.au
+61-417-400-260
Civic Parade
Altona
Australia
COMTEX_389264420/2764/2021-07-02T18:09:13