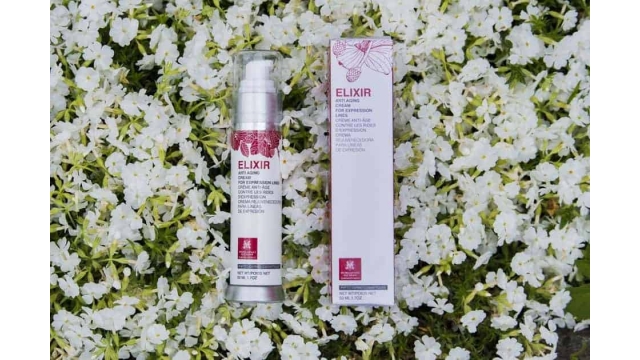 Today, Morganna's Alchemy reflected on its release of their Elixir Anti-Aging Cream. The main aim was always to fight the most common signs of aging by using a naturally-derived ingredient called Spilanthol, an innovative anti-aging ingredient that is plant-based and proven to work…. and by defying convention, this Anti-Aging Cream did so, with a difference.
Maya Hyppolite-Williams, Founder & CEO at Morganna's Alchemy, says: "We wanted to try something new with Elixir Anti-Aging Cream. Anyone familiar with the skincare market will probably have noticed how everyone else always seemed to use old technology for anti-aging skincare that was outdated. They often used ingredients that only work short-term and can cause long-term adverse side effects. Most anti-aging creams are not suitable for oily skin types or adults prone to acne because they are oil-based, heavy, and occlusive. We felt this was a problem because many traditional anti-aging ingredients are harmful to the skin and can create lasting damage. Many common anti-aging ingredients are synthetic, not naturally derived, not sustainably sourced, and not suitable for all skin types. Most anti-aging creams only address the short-term signs of aging and do not prevent or reverse signs of aging. Many people with mature skin also experience acne and cannot use heavy and occlusive anti-aging products on the market…"
As a science-oriented company, Morganna's Alchemy prioritized efficacy as much as safety and sustainability. Robust clinical trials showed a 48% decrease in wrinkle depth within just 28 days of use. Armed with this clinical evidence, a safe and natural ingredient, and a mission to improve anti-aging creams, Morganna's Alchemy launched the Elixir.
So as a welcome breath of fresh air, Morganna's Elixir provides powerful oil-free hydration and fights against the primary signs of aging. Unlike most anti-aging creams, this oil-free formula will not clog pores and is perfect for those with oily, combination, and breakout-prone skin looking to prevent and resist signs of aging. The Elixir harnesses the power of Spilanthol, an innovative plant-based ingredient that is proven to work. Spilanthol reduces microscopic facial movements naturally to prevent future wrinkles and fine lines. Spilanthol can also boost collagen and elastin production to plump existing fine lines and wrinkles. Spilanthol is a natural anti-aging ingredient that is suitable for all skin types, including sensitive, oily, combination, and dry skin. It is an excellent addition to any anti-aging routine from your 30's to your 80's. Morganna's Alchemy chose to make this move because they set out to make skincare products for people of all skin types, colors, and concerns. Many skincare treatments are not safe for melanin-rich skin types, sensitive skin types, and mature skin types to use long-term. Morganna's Alchemy set out to make an anti-aging cream that would not only provide anti-aging treatment for oily skin, but would not cause sensitization, hyper-pigmentation, or other signs of irritation. Elixir was created to harness the power of Spilanthol and provide skincare buyers with a natural anti-aging option.
Maya Hyppolite-Williams also said, "We want to give our customers a viable option for those with oily and combination skin looking to prevent and reduce signs of aging like wrinkles and fine lines. Morganna's Alchemy creates every product with every skin tone and texture in mind and strives to provide the best that nature has to offer. With Elixir Anti-Aging Cream, they have a fresh new possibility. We want them to feel confident that they are using a non-toxic, natural, organic plant-based product that will do what it says. We want customers to feel cared for by our small business and a woman-led team of skincare experts. We want our customers to know all of our products are tested for irritancy, sustainably sourced, pH balanced, and naturally derived.
Morganna's Alchemy has been in business for 15 years, being established in June 2006. Since Day 1 it has always aimed to deliver safe, natural, and effective skincare for people of all ethnicities while bettering the world through its use of Eco-Certified ingredients that come from fair trade co-ops and family-owned farms all over the world.
Elixir Anti-Aging Cream is now available on our website. To find out more, visit https://www.morgannasalchemy.com/product/morgannas-elixir/
For further information about Morganna's Alchemy, all this can be discovered at https://www.morgannasalchemy.com
Morganna's Alchemy
Morganna's Alchemy
https://www.morgannasalchemy.com
+1-866-382-2627
10347 Palladio Drive
New Port Richey
United States
COMTEX_389302239/2764/2021-07-03T13:38:42