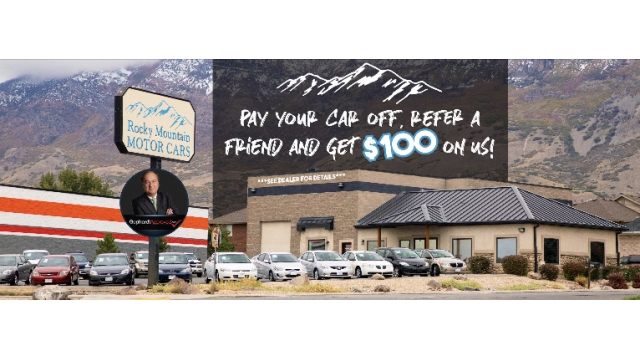 Rocky Mountain Motor Cars has recently announced the launch of a new Buy Here, Pay Here service. The used car dealership serves clients in Ogden, Utah.
For more information, visit: https://www.rockymountainmotorcars.com/?ai_lang=en
This update will help clients with a low credit score access high-quality, used cars, trucks, vans and SUVs at affordable prices.
Having a good credit score is an important element when making a large purchase like a car. Typically, most car dealerships and credit providers will require potential buyers to have a high score to qualify for the purchase. The average credit score for auto buyers has also risen significantly over the last few years to 710, making it harder for those with lower scores to buy.
Rocky Mountain Motor Cars responds to these trends by releasing its Buy Here, Pay Here service for those with no or low credit scores. Under this program, prospective buyers can make payment plans directly with the dealership.
Besides the Buy Here, Pay Here program, the dealership provides a range of other services, including auto selling and buying. Clients can request the dealership find their preferred make and model of vehicle at their desired price point.
Rocky Mountain Motor Cars carries a wide inventory of cars, including Chevrolet, Ford, Kia, Hyundai, Jeep, Subaru and many more. All the dealership's vehicles must pass their comprehensive, in-house inspections and come with a complimentary 2 year/24,000 mile warranty.
The dealership also has a branch in Pleasant Grove, Utah. Both locations are easily accessible for clients traveling from Salt Lake City.
More information about their services is available at https://goo.gl/maps/X2rQ8a9QLzASWNTM7
This announcement is in line with Rocky Mountain Motor Cars' commitment to providing clients with quality used cars, regardless of their credit history. The dealership has also gained a strong reputation for its selection of vehicles and high level of customer care, as shown in its many positive reviews online.
One satisfied customer said: "The sales manager at Rocky Mountain Motor Cars was just great. He made me feel comfortable, and he was to the point, energizing, and motivating. Simple, comprehensive service and really cared about me, my understanding of the process and the car. Thank you."
Interested parties can find out more about Rocky Mountain Motor Cars and make an appointment at either its Ogden or Pleasant Grove, Utah locations by visiting: https://www.rockymountainmotorcars.com
Rocky Mountain Motor Cars
Rocky Mountain Motor Cars
https://www.rockymountainmotorcars.com
info@rockymountainmotorcars.com
+1-801-785-1058
767 S State Rd
Pleasant Grove
United States
COMTEX_389814583/2764/2021-07-14T16:21:57