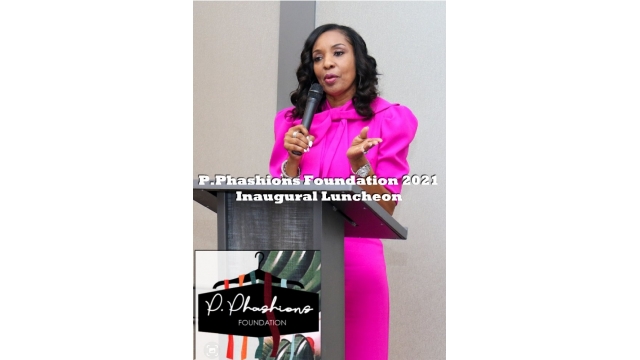 The inaugural P.Phashions Foundation event was a huge success, we awarded ten deserving Under-Served young ladies a wardrobe valued of $72,295.00.
Nonprofit Provides Shopping Spree to High School Graduates Preparing to start a new chapter on a college campus; rarely do you hear about the anxiety young girls face when it comes to clothing and the proverbial question…what should I wear? While material in nature, this growing pressure is a big concern, 10 high school graduates will not have to worry about.
The 2021 Inaugural Luncheon and Shopping Spree took place on Saturday, June 26th, at the Crowne Plaza Atlanta Perimeter at Ravinia Hotel. P. Phashions Foundation awarded wardrobe scholarships valued at $72,295.00, In addition, these graduates will as well receive style consultations by personal shopper, author and social media fashion influencer, Talia Leslie, socially known as @thehighlowfashionista.
"We will provide each scholarship recipient with a wardrobe befitting a young lady with a bright future," Founder and Executive Director Phyllis Wise said. "In addition to providing the girls with apparel and accessories, the P. Phashions team connects them to additional support to ensure a smooth transition into college life."
Recipients were identified and interviewed after extensive outreach to high schools in under-rserved communities and evaluated on their application essays, academic achievement, and letters of recommendations.
This year's inaugural scholarship winners are: Gabrielle Adekogbe (South Cobb High School) – University of Georgia; Winniefred Ahenfo (Dunwoody High School) – Kennesaw State University; Kiara Baker (Clarkston High School) – Brandeis University; Ayanna Hannah (Morgan Park High School) – Northern Illinois University; Maria Hernandez (Dunwoody High School) – Georgia State University; Hannah Imolode (Elite Scholars Academy) – Georgia State University Honors College; Celeste Montgomery (Clarkston High School) – University of Chicago; Glory Olowojoba (Chamblee Charter High School) – Duke University; Dawtchin Tial (Clarkston High School) – Georgia State University. The Madison Award recipient is Kennedy Randall (Northeast Magnet High School) – Swarthmore College who rose from homelessness to valedictorian.
About P. Phashions Foundation P. Phashions Foundation is a nonprofit founded by Executive Director Phyllis Wise. The organization helps high school girls, from underserved communities, acquire wardrobes before attending college. The Foundation is working to create a world where college-bound young ladies walk on campuses with the confidence to thrive and a sense of belonging.
To learn how to apply for a wardrobe scholarship and how to support P. Phashions Foundation and its mission, please visit: http://www.pphashionsfoundation.org.
PR MobileWire
PR MobileWire
https://prmobilewire.com
myspacephotowire@gmail.com
+1-305-490-2182
245 North Highland Avenue Northeast #230G
Atlanta
United States
COMTEX_389559076/2764/2021-07-09T07:02:26