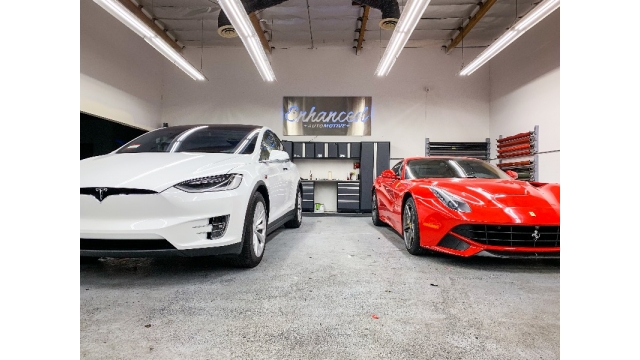 Enhanced Automotive San Diego announced an update to its range of car protection and enhancement services. The San Diego vehicle protection experts provide an array of solutions for local drivers, including auto detailing, paint coating, clear bra services, ceramic coating, and window tinting.
More details are available at https://www.enhancedautosd.com
The updated services by Enhanced Automotive ensure car owners and drivers in San Diego, California, can now conveniently access cost-effective vehicle protection solutions to protect their automobiles from scratches, dints, and the elements, as well as ensure their car continues to maintain its new look.
Drivers looking to protect their vehicle's paintwork may want to consider using ceramic coating as a protective layer. As the company explained, the solution is based on the latest nanotechnology and formulated to form bonds with surfaces at the molecular level.
The Enhanced Automotive San Diego team uses ceramic coating to create a thin film of water-resistant layers over the client's vehicle. This extra protective layer prevents dirt and other contaminants from lodging onto the car surface, hence helping to keep the vehicle looking like new.
Unlike regular waxing solutions that last for just a couple of months, ceramic coating can last for up to 5 years and does not require repeated applications to maintain its protective properties.
Whether the customer wants to protect their vehicle's exterior and interior surfaces or the rubber or plastic components of their automobile, the San Diego automotive protection provider can offer just the right solution for the specific surface.
Additional information about the company's ceramic coating is available here!
The company understands that each driver's needs are unique; hence their team of professionals will typically work with each owner to provide customized solutions tailored to their individual situation.
Enhanced Automotive San Diego is a family-owned and operated business committed to providing drivers in San Diego and the surrounding areas with quality auto care solutions that make caring for their vehicles easy.
A satisfied client said: "It was a pleasure working with the Enhanced Automotive team. They were professional, respectful, and courteous. The chrome delete on my Model S turned out clean – no hint of chrome whatsoever. I'd definitely return for future projects."
Interested parties can call +1-619-751-0557 to request a quote or visit https://www.enhancedautosd.com/paint-protection to learn more.
Enhanced Automotive San Diego
Enhanced Automotive San Diego
https://www.enhancedautosd.com/
enhancedsandiego@gmail.com
+1-619-751-0557
5640 Kearny Mesa Rd Unit G
San Diego
United States
COMTEX_389918773/2764/2021-07-16T11:12:31